FAIRBURY, Ill. — Lincoln Slagel enjoys doing research and when his college roommate introduced him to craft beer, he looked deeper into it.
Those initial experiences led Slagel to eventually open Emancipation Brewing Company in 2019 on the family farm northeast of Fairbury in a century-plus-old former dairy barn.
He and his father, Don, are co-owners and Lincoln is head brewer, making a wide variety of craft beers with locally sourced ingredients, including hops grown adjacent to the refurbished barn.
AgriNews will be checking in with Slagel every month as part of its highly popular From the Fields series. Different farmers and different regions are being highlighted in a rotation each week.
It all started his junior year of college. Slagel had just turned 21 and his roommate was part of a beer club at a local beer shop. Members would get curated beer packages each month with tasting notes.
"That's not the normal college student beer experience. He would always give me little samples and I thought they were all pretty terrible. Then I tried one that he had that I thought was whole different thing. It really intrigued me, so I immediately started doing research which is sort of my background," Slagel said.
"I really got interested in the process, the ingredients, the recipes and everything else from that perspective."
First Try
In November of that same year, the Slagels purchased a home brew kit "mostly to have something to do on Thanksgiving morning with my dad and my brother-in-law instead of getting in the way of my mom who is doing actual work," he said.
Slagel did extensive research leading up to brewing time. The first batch turned out "shockingly good," he said.
"It was not any better than what you buy in the store, but for a first time it was, like, wow. That just sort of ignited the fire," he explained.
Slagel continued to research beer recipe development, history, equipment, and his father, who's been a lifelong farmer and also a steel fabricator, got very interested on the equipment side.
"He's able to fix anything. So, we sort of naturally went two directions. I went the brewing, recipe and ingredient direction and he went to the equipment, maintenance direction with it. Soon we had all stainless equipment, pumps and that kind of stuff which is not that common for home brewers," Slagel said.
"I was an entrepreneurship, finance and economics student in college. Our family has a long history of entrepreneurship. So, when I found brewing and realized there could be a business I did a project my senior year for it."
Business Plan
His business plan included using local ingredients which is not very common in the Midwest. This coincided with the growing popularity of the farm-to-table food movement.
"It's not enough to just be a craft restaurant anymore. You also need to be sourcing local ingredients, and I thought beer is probably going to take the same route. It turned out to be true," Slagel said.
The next need was a location and the unused barn on the family homestead would fit the bill.
It was originally a dairy barn and the Slagels used it for beef cattle until he was in high school and had since sat empty.
"My budget wasn't very big, so we put the money into brewing the best beer we could and tried to do the barn refurbishing ourselves. They removed the feeder and a few other features in the barn, but the original ceiling, floor and doors remain," he noted.
"We thought about pouring new concrete for the floors and the first thing somebody complimented us on at our grand opening was they loved the floors. My dad and I got such a kick out of it because we were fretting about it."
He's not certain on the barn's exact age, but relatives who lived on the homestead in the 1950s and '60s believed the original pole barn was built around 1920.
In the mid-1940s the barn was lifted, I-beams and a concrete floor were installed, and most of the wood poles removed. A concrete pad outside the barn was added in the 1990s when they switched to beef cattle.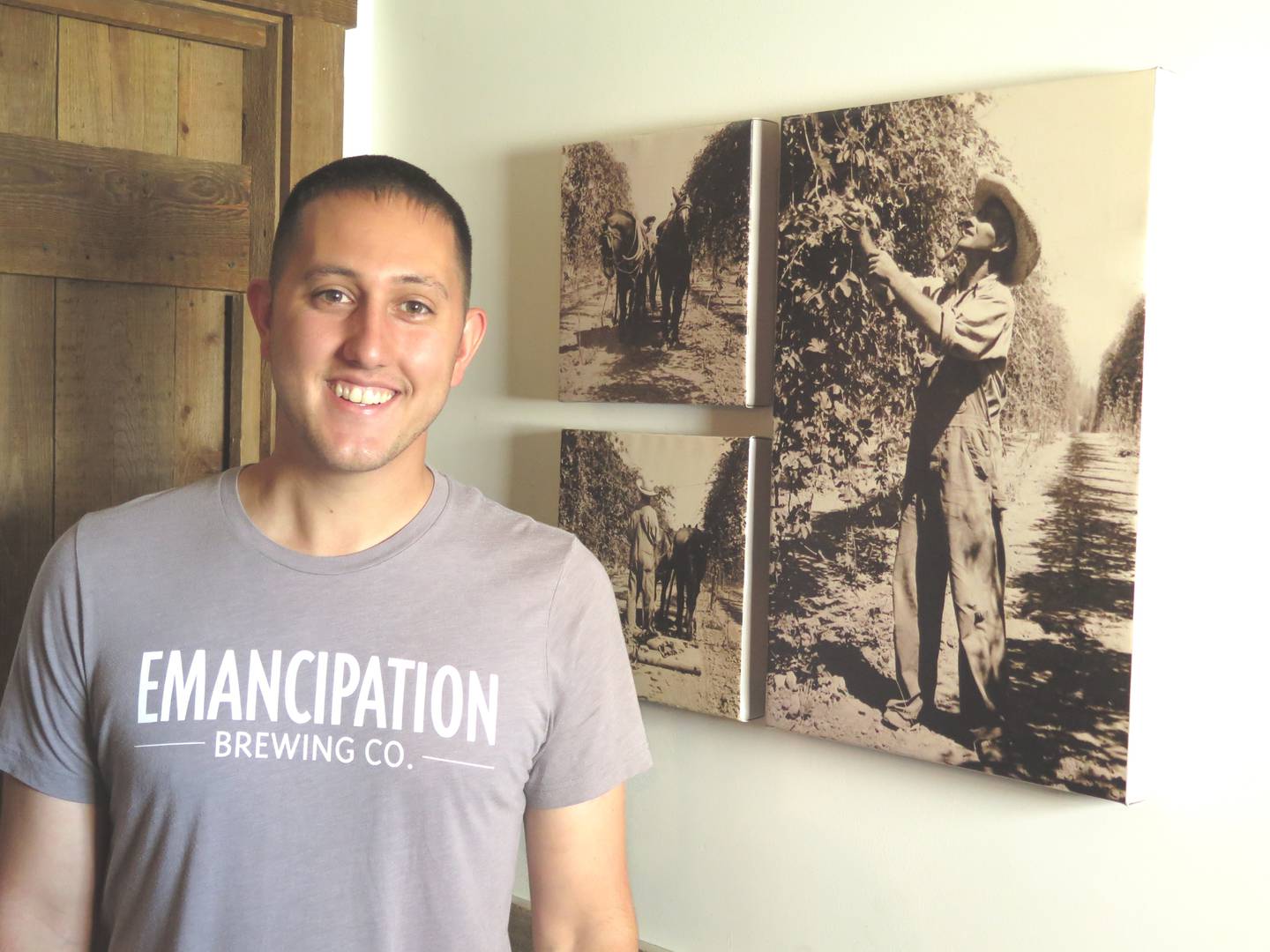 Freedom Google
A standing joke from that same college roommate who turned him on to craft beers led to the name of the brewery.
"He's from the Chicagoland area and we would always joke about how he was a city guy and I was a redneck country person. He kept joking that we were going to free all of the local people from tasteless beer, and partially also because my name is Lincoln and it sort of played into it. I wasn't named after Abraham Lincoln. My mom and dad just liked the name," Slagel said.
"He started Googling synonyms for freedom and came up with emancipation. I honestly didn't love it at first, but it ended up kind of sticking. I do feel it has become a fitting name for us."
Local Ingredients
About 85% to 90% of the hops used at the brewery this year are from Land Locked Hops near Loda. The remaining hops are grown just west of the barn.
"I've always been a proponent of using local products. We didn't just want to use them just because they're local. They're also extremely high quality and the freshness plays into it also, rather than anything we'd get shipped from Europe or the Pacific Northwest. Having them there kind of gave us a connection to also be able to go over and touch and feel and look at the hops," Slagel noted.
"My dad has been a farmer his whole life and he liked the challenge of trying out a new crop and we also brew some batches with our hops."
He also sources grains from Sugar Creek Malt Company, a small farm near Lebanon, Indiana, where they grow barley, corn, wheat, rye and oats, and malt on-site.
"Their soils are very similar to around here. Nobody around here grows barley. I've tried to pitch it to people and get laughed out of the room," Slagel said.
"It's a small multi-generational family farm and things haven't gotten any easier for small farmers. They were able to add value to their small farm. They do double-cropping, so they're able to also grow traditional crops in between and that has helped, also.
"They work with Purdue University, University of Indiana, and University of Illinois with different heirloom seed varieties with the intent of not just having better flavors and more interesting histories, but also minimizing soil degradation to preserve the land and maintain the quality of the land for next generation.
"Having a local malting company has only happened in the last five or 10 years. Before that there were three or four big malting companies and they were the only suppliers. These local people, especially the ones that grow and malt their own like at Sugar Creek are able to be pretty price competitive since it's vertically integrated."
One of Emancipation's newest beers, Huey, features locally-grown hops and a red heirloom corn variety, Blood Butcher, grown at Sugar Creek.
Among the enjoyable parts of brewing is almost any grain can be used. Slagel recently brewed beer using blue popcorn produced by a local farmer and won second place in a contest with the beer.
"This fall we're doing a beer that has a couple different kinds of corn from Sugar Creek. It's for a charity ride for a children's hospital. We're brewing a pre-prohibition-style lager and it's based on a recipe from the late 1800s," he said.
At any given time, 10 to 12 different beers are featured on draft and a few more are available canned or bottled. Slagel brewed 80-some unique beers last year and has brewed well over 100 unique beers since Emancipation opened in 2019.
Slagel recently began selling the aforementioned Huey in multiple businesses in Pontiac, at Dave's Supermarket in Fairbury, and a couple businesses in Bloomington. It's the first time he started selling beer outside of Emancipation Brewing.
Some of the proceeds from sales of Huey are donated to the local school's extracurricular programs.
"We recently did our first donation and that went to the men and women's golf teams. I played golf in high school at Prairie Central and we've more than doubled their annual budget with just the first donation," Slagel said.
'DNA Discovery'
There's a sign behind the bar that states "Hop picker wanted, register here." Slagel's great-uncle found the sign in a shed and preserved it. The sign was from Slagel's great-grandfather's hop farm in Oregon.
"I didn't even know until we were about to open. No one had told me this. My grandma, my mom's mom, grew up in the Willamette Valley of Oregon raising and harvesting hops with her dad and family. The family business was farming hops. I had no idea," Slagel said.
Photos near the entrance of Emancipation Brewing feature his great-grandfather in one of his hop fields.
"Amazingly, my grandma has some of the handwritten accounting books from the mid-1930s when he was growing hops," he added.