SPARLAND, Ill. — Farmers were encouraged to give cover crops a try at the Marshall-Putnam Farm Bureau Nutrient Loss Stewardship Field Day.
Speakers highlighted how farmers who implement cover crops can build better soil in their fields both physically and microbially and reduce nutrient loss through improved water retention and decreased erosion, which are key to the statewide Nutrient Loss Reduction Strategy.
This event was part of Illinois Farm Bureau's Nutrient Stewardship Field Days, which share ongoing research from the IFB Nutrient Stewardship Grant Program.
The Marshall-Putnam Field Day presented information from a multiyear cover crop demonstration project, led by local farmer Shay Foulk.
According to Austin Omer, IFB associate director of natural resource policy, farmers are leading the way with on-farm practices, such as cover crops, that are helping to reduce nutrient loads and meet the goals of the NLRS.
Cover crops are one in-field practice helping Illinois farmers make this progress by reducing runoff and erosion. Also, cover crops can improve a farming operation in several ways.
Illinois State University graduate student Emily Hansen shared her research on the microbial community in the soil and what impact cover crops have on that community.
Microbes are essential to soil and plant health. They make nutrients available to crops and provide beneficial bacteria. Each cover crop has the potential to create a unique microbial community in soils.
Farmer attendees had the opportunity to see six different cover crops that had nearly six weeks of growth: cereal rye, oats, oat/radish mix, oat/radish/red clover mix, triticale and wheat.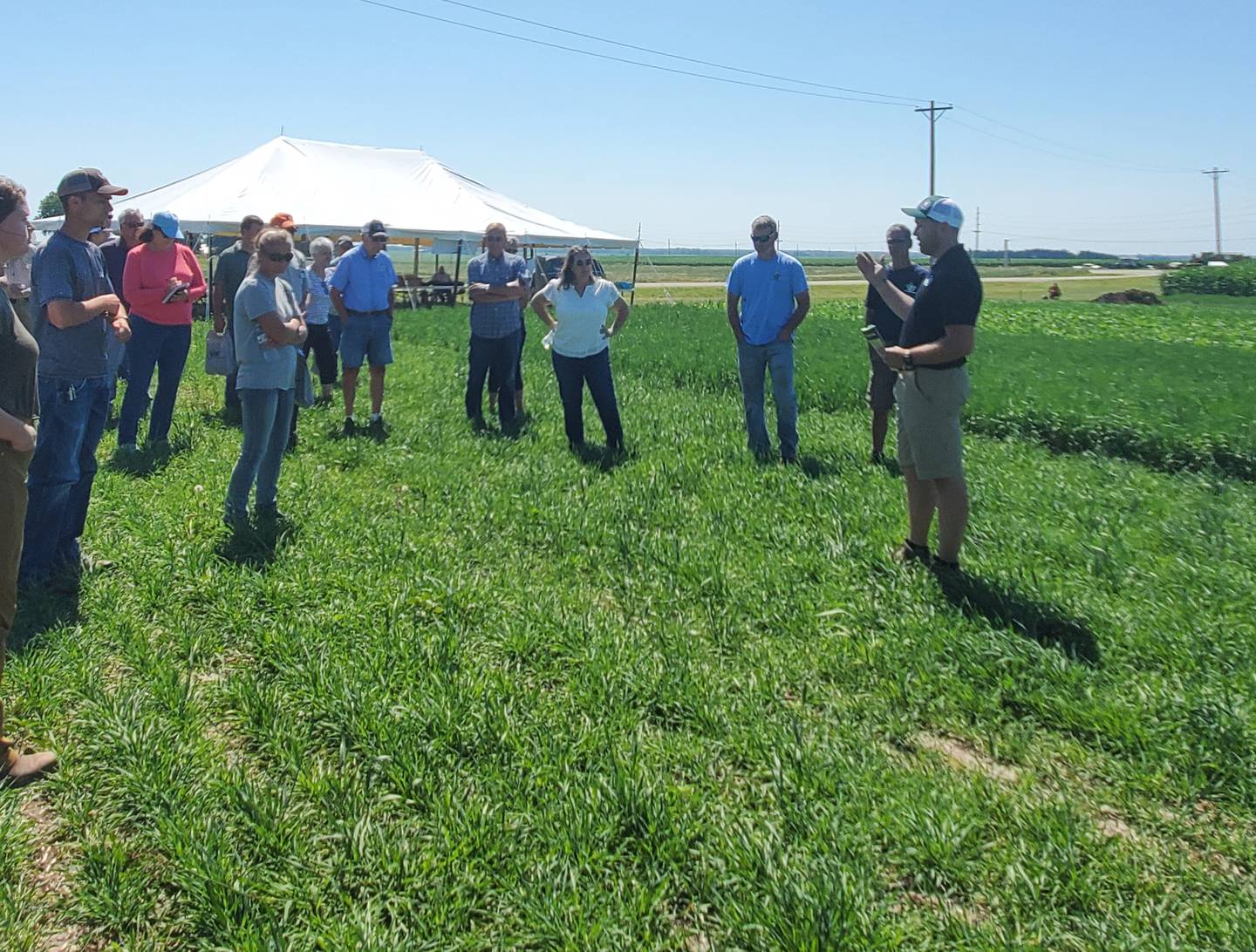 Foulk, farmer and ag business consultant, coordinated the plot and provided a walking tour of the site, where he talked through the various benefits and challenges to each type of cover crop featured in the demonstration plot.
"One of the benefits of having the demonstration plot is you can actually see what it looks like growing in the field," Foulk said.
Cover crops reduce the impact heavy rainfall has on soil and also slow runoff from rain and snowmelt. Both of these help to reduce nutrient loss. In addition, cover crops also store nutrients until they can be used by a future crop.
To see how cover crops affect the soil below ground, a soil pit was on-site. Andrew Margenot, assistant professor in the Department of Crop Sciences at the University of Illinois, highlighted the types of soil and how various farming practices such as cover crops have impacted the physical profile of the soil in the field.
A farmer panel then shared their experiences implementing cover crops. The farmers noted that they focus on using this practice in fields near watersheds or where additional erosion control is needed. They agreed cover crops are the right thing to do to care for their farms and for the environment.
"Farmers who want to get started with cover crops should start small and find what works for their operation," Foulk said. "Ultimately, we need to try new things and see how we can work together as the farming community to reduce nutrient loss."
The NLRS, which was released by the Illinois Department of Agriculture and the Illinois Environmental Protection Agency in July 2015, calls for wastewater treatment plants, urban areas and agricultural areas to reduce the state's phosphorus load by 25% and its nitrate-nitrogen load by 15% by 2025. The eventual target is a 45% reduction in the loss of these nutrients to the Mississippi River.
Visit www.ilfb.org/FieldDays for additional details on upcoming field days and to browse information related to past events.