CHICAGO — Nutrient-rich leafy greens, lettuces and herbs are growing continuously at the Homestead Farm owned and operated by first-generation farmers.
The development of the hydroponic farm by sisters Jacqueline Scala and Mary Kathryn Scala was partially triggered by the pandemic.
"I was working in the hospitality industry and was let go from my job, so I did a lot of research for my next move," Mary Kathryn said. "One night I read an article about a manufacturer called Freight Farms that was placing farms all over the world to grow nutrient-dense food and I was smitten."
At the same time, Jacqueline was working on a project for a charity that wanted to find a solution for extending the life of the community garden.
"She called me and asked if I had heard of Freight Farms," Mary Kathryn said. "She thought that if anyone could get this to Chicago, we can."
As a result, the sisters began their Freight to Plate business.
"We were trying to figure out a solution for that one community and then this larger idea came to mind that this is a solution for dense urban areas and for food-insecure areas," Mary Kathryn said. "Let's put something together to make it possible to integrate these farms into all communities."
"We're a compliment to traditional farming, not a competition," Jacqueline said. "There are a lot of people to feed and this is another way to have a food source available, so we want to make a sustainable change for food scarcity, food accessibility and also provide an affordable food option."
The sisters chose to locate the Homestead Farm in the Fulton Market neighborhood.
"I drove around taking pictures of any empty parking lot and when I randomly drove past this spot, my heart grew two sizes," Mary Kathryn said.
"We decided on Fulton Market because this is a hospitality corridor, there is a lot of energy and it has a start-up vibe to it which is very intriguing to us," Mary Kathryn said.
Freight Farms builds the container farms for the purpose of vertical hydroponic farming. The 8- by 40-foot container includes a nursery and garden.
"The airflow, humidity and climate control is critical for the plants to grow from seed to harvest in six weeks," Jacqueline said.
The first plants were seeded by the farmers in May.
"When we started seeding we grew things we thought were cool, so we planted 16 varieties of leafy greens, lettuces, herbs and small root vegetables," Mary Kathryn said. "Now that we have our end users figured out, we're narrowing it down to a fewer varieties that include Dazzling Blue kale, arugula, watercress, Red Cherokee lettuce and Rainbow Swiss chard."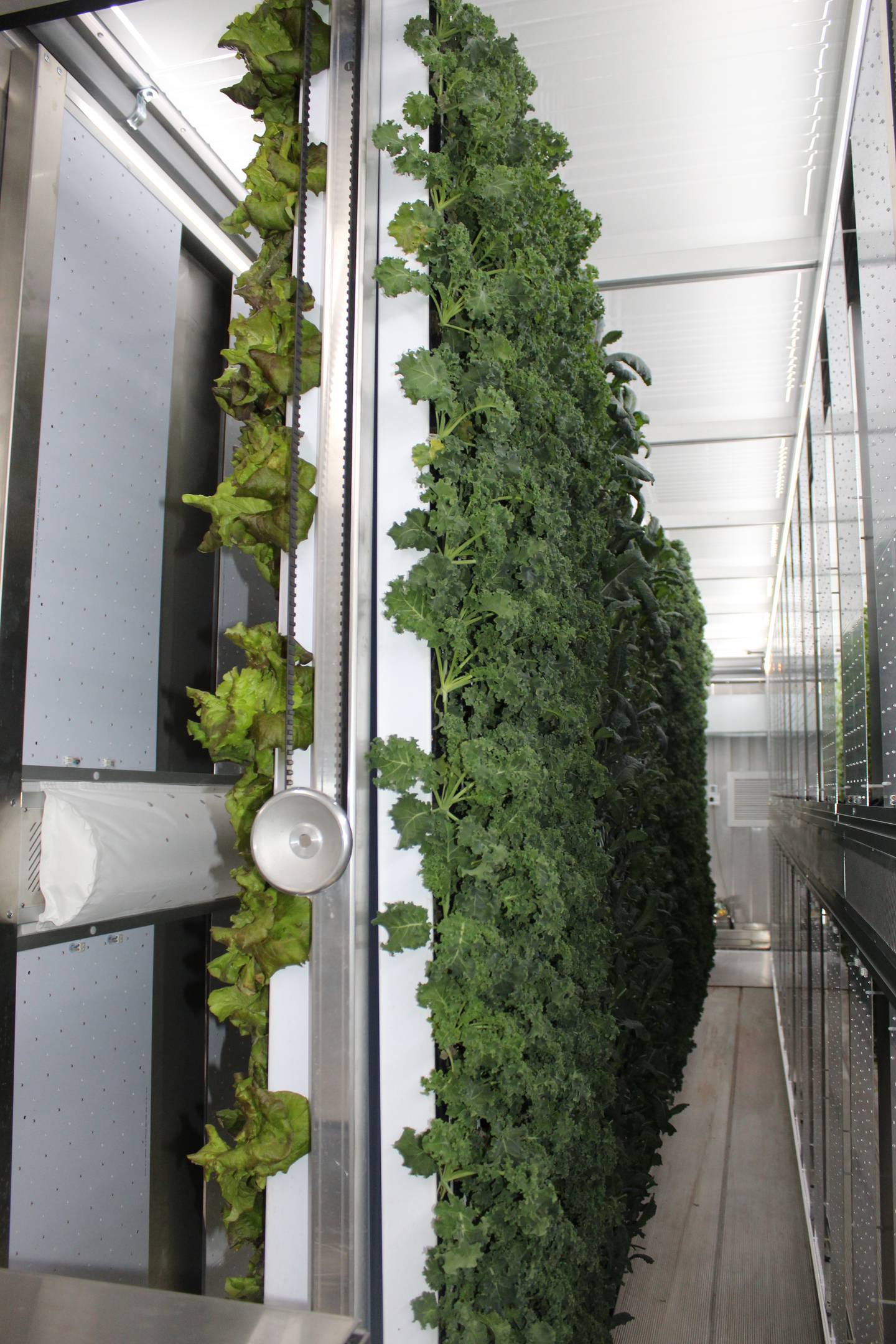 Freight Farms has farms in 32 countries around the world, Jacqueline said.
"They do data sharing, so we know what is going to grow best and how," she said.
"The first time I saw the size of a seed, it shocked me," Mary Kathryn recalled. "I thought there is no way this is going to work, but in three days they germinated and my tiny seed became this full head of beautiful lettuce."
The seeds are planted in cells of trays that contain peat moss.
"Once they develop roots, we pop out the plug, pop them into the vertical gardens and now we are growing 12,000 plants between the nursery and the garden," Jacqueline said.
"I hope I never lose that sense of wow of watching all this grow and this is so important to share because we've lost a connection to our food," Mary Kathryn said. "We've had children to adults come here and have that sense of wow and wonder — everyone deserves nutrient-dense food."
Harvesting their first crop was quite special for the new farmers.
"I was so happy and I couldn't believe how fast it was," Jacqueline said. "After you eat a bowl of these greens, you feel fuller longer because there are more nutrients packed into them."
One of the first direct-to-consumer buyers purchased a harvest box that included a mix of leafy greens and herbs.
"The same day she sent me a message saying they were the best greens ever and she ate them all in one day," Mary Kathryn said. "She is a cancer survivor and she said that she wants this food to be part of her healing journey. That's been the best gift of doing this project, being able to bring this to people that need food."
No chemicals or pesticides are used in the controlled environment of the Homestead Farm.
"Our food is nutrient dense because we put nutrients in the water, so all the plants are getting exactly what they need when they need it," Mary Kathryn said.
The optimal growing condition includes 12 hours of day for the main gardens and 16 to 18 hours in the nursery.
"Plants in general pull blue and red spectrum light from the sun and work really hard to filter out the other colors of light because they only need red and blue," Jacqueline said. "That's one of the efficiencies — we're giving the plants exactly the light source they need, so they don't have to work hard to filter out everything else."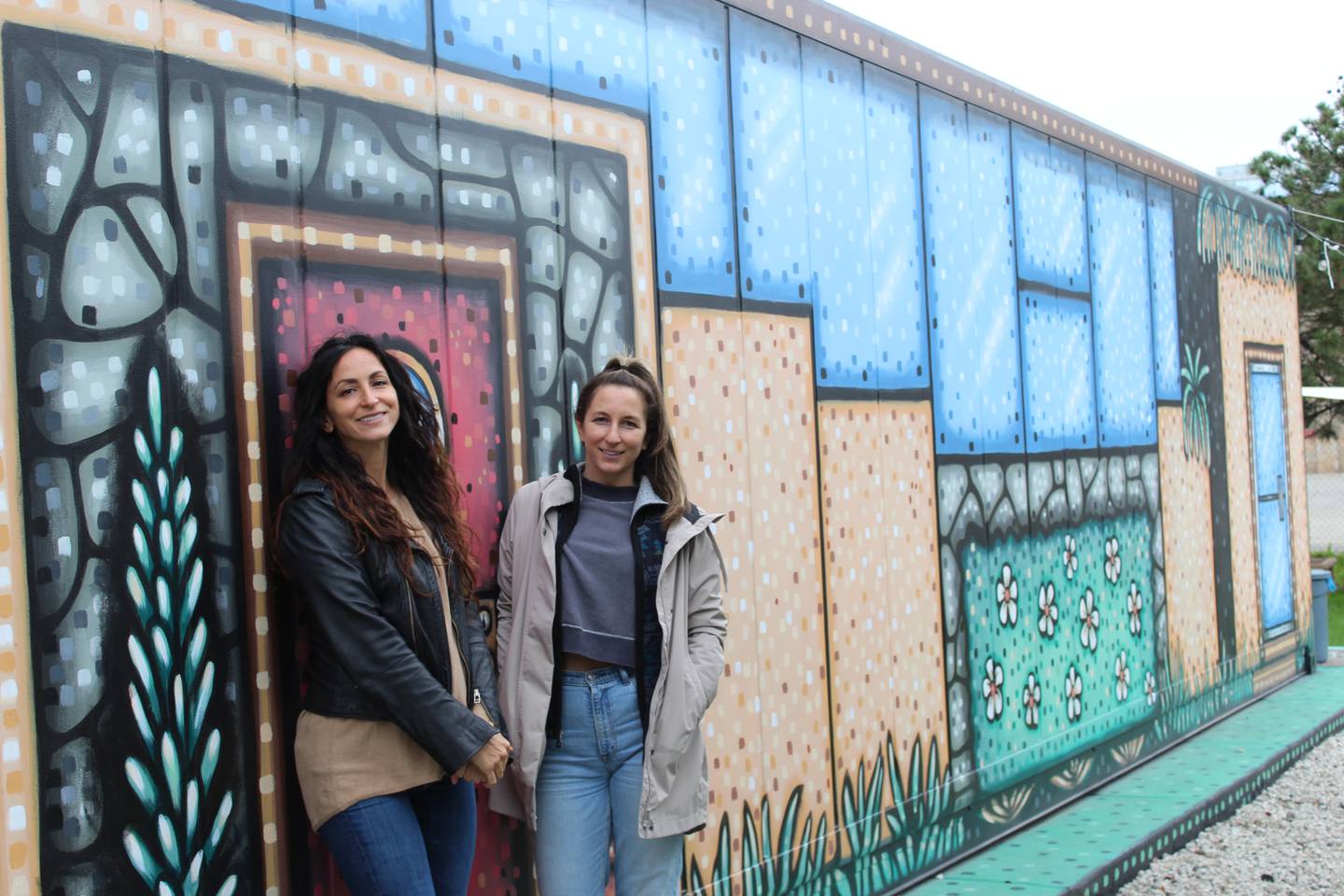 In addition to selling their greens, lettuces and herbs direct to consumers through their website, the farmers are also marketing directly to restaurants.
"One of the first chefs that came in here went down the aisle, pulled a piece of arugula and said this is so spicy, peppery and it's brighter," Jacqueline said. "He said it has a better flavor profile, so the food sells itself."
Many chefs since then have toured the Homestead Farm to learn more about the products that are grown there.
"We grew heirloom carrots and sold them to our partners at the University of Chicago," Mary Kathryn said. "Those small, round carrots have the biggest punch of flavor that make you feel alive and the chef loved them."
The goal for the farmers is to educate others about the opportunity to grow food in lots of places.
"Freight to Plate envisions integrating farms into communities," Mary Kathryn said. "I think this is going to be more of a lifestyle for a new urban agriculture wave."
A hydroponic farm can be placed on top of a building, under a building or in a parking lot, covering about six parking spaces.
"We want to implement as many farms as we can and the best way to do that is get community engagement by working with non-profits, charities and educational institutions that are already active," Jacqueline said. "That's where Freight to Plate wants to focus a lot of energy because the bigger the network, the better it is for everyone."
The Homestead Farm is a showroom for Freight to Plate, Jacqueline said.
"The chefs know the product brand, they like it and they enjoy the taste, so when there's more farms in other areas, those local economies can benefit from the brand awareness," she said. "We have several projects we're looking at now across different industries including a school and a commercial development that wants to engage tenants with a local food source."
"This has been a wild ride and who knows what next year will bring," Mary Kathryn said. "We have so many amazing projects that are going to start to unfold — it's an exciting time."
For more information about Freight to Plate, go to www.ftp.farm.