COBDEN, Ill. — The University of Illinois Extension 2021 Southern Illinois Summer Twilight Series started off on a sweet note as guests interested in strawberry production and plasticulture gathered at Flamm Orchards.
The meeting in mid-May marked the return of the series, which is now in its seventh season, after a year's hiatus due to COVID-19.
"It was a different kind of spring," said Alan Flamm, who oversees the farm's strawberry production.
Flamm Orchards started in 1888 on 117 acres near Cobden. Today, the farm has about 2,000 acres in multiple locations. Flamm Orchards grows peaches and apples, along with the 10 acres of strawberry production, and some wholesale vegetable production.
Austin Flamm, who manages the farm with his cousin, Parker Flamm, with their fathers, Jeff and Mike, and their cousin, Alan, welcomed the guests to the farm. Austin and Parker are the sixth generation to operate the orchard.
Alan Flamm answered questions and discussed the management and production of the strawberries. He said they plant several different varieties, including Chandler, Camarosa, Rocco, Ruby June and Fronteras.
"Some years you will set more blooms on one or two varieties than the others, so it's kind of nice to have more than one or two varieties," he said.
The Flamms work with McNitt Growers in Carbondale to source their strawberry plants. The plants include a mix of varieties developed in North Carolina, Florida and California.
"One thing that is different on Ruby June than the others, most of the stuff that comes out of California is designed to be shipped from California to the East Coast. Ruby June was bred with u-pick and the local fresh produce market in mind, so it was bred for size and flavor rather than firmness and shipability," Bill McNitt said.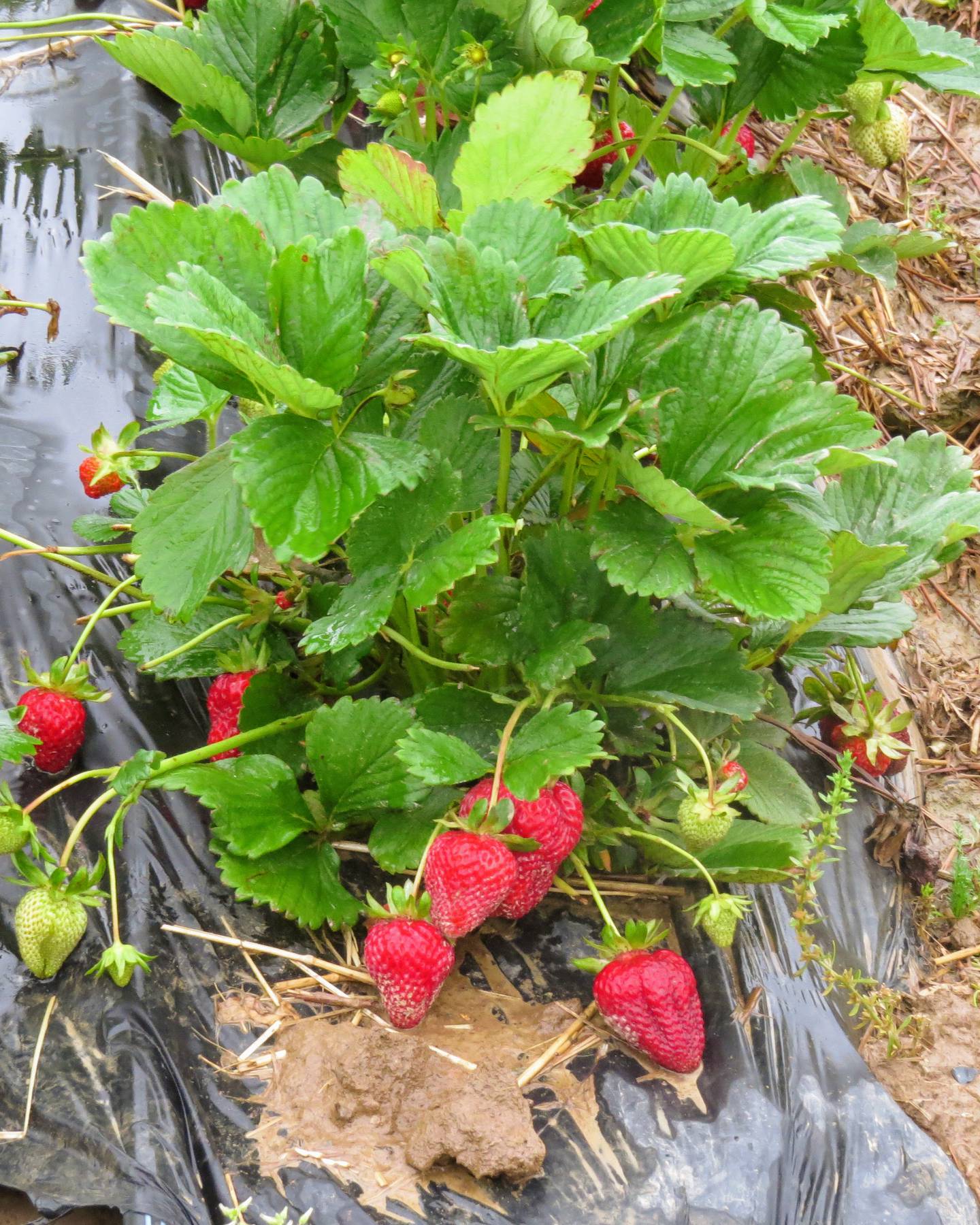 Alan Flamm said the combination of hot and cold spells in the early spring this year have made for a large crop of blooms and berries, but it also impacted the timing of the crop.
Usually, different varieties bloom and produce at different times. This year, most of the varieties bloomed and set fruit at the same time.
"If it had been a normal spring, I think the Roccos would have been ahead of the Ruby June. Almost every variety we had came in within three or four days of each other. I've never seen it do that before," Flamm said.
The Flamms use plasticulture to raise their berries, with the plants being planted into broad sheets of black plastic that cover the rows.
"We have been working with strawberries for 15 to 20 years. The first year we did it, we went down through there with a tomato stake, punching a hole through and sticking the plants in. Now, we have two workers who ride on the planter and it's a little easier. It's a long way from punching a hole with the tomato stake," Alan Flamm said.
Strawberries are planted in the fall.
Other management methods including rotating the strawberries from field to field and the use of cereal rye between the rows to suppress weeds. In the fall, the rows of berry plants are covered with row covers.
Flamm said disease pressure has been light so far but that could pick up if conditions turned hot and wet.
"Gray mold and rot is the worst if it gets hot and wet," he said.
The farm has a retail store that sells a variety of fruits, vegetables, jams and jellies. In addition, the farm has a Fruits and Cream Stand, which sells homemade treats with fresh fruit including strawberry shortcake, cobblers, apple dumplings and pies.
After the field tour, guests were treated to strawberry shortcake.
Bronwyn Aly, U of I Extension educator for local food systems and small farms for Gallatin, Hamilton, Hardin, Pope, Saline and White counties, said she was pleased with the attendance at the first Twilight series meeting in over a year.
"We had three of our four farms already committed for last year when we had to cancel those Twilight meetings. We were able to pick back up and reconnect with some of those farms. Flamm Orchards was where we were going to go last year in May, so we just reconnected with them and they were more than happy to host us this year," Aly said.
The next meeting in the series is scheduled for June 21, at 6 p.m. at the Dixon Springs Agricultural Center, 354 State Highway 145 N, Simpson, Illinois. That meeting will highlight production and management practices for multiple high tunnel vegetable crops and biological insect control in high tunnels.
Aly said the meetings are designed to highlight the many different types of agricultural production in southern Illinois.
"We try to look at different production practices that we haven't looked at. We want to really highlight diversified farming enterprises in southern Illinois. I don't think that people really realize the diversity of crops that can be grown in our region, so we want to bring that to the forefront and we want to keep people mindful of our local food system in the region," Aly said.