RANTOUL, Ill. — The Half Century of Progress Show lived up to its billing as the world's largest vintage working farm show with crowds, machinery and vendors filling the former Chanute Air Force Base grounds Aug. 24-27.
"I think Friday probably was our biggest day. The crowd Saturday was just about as good as Friday, maybe the same, I don't know. We haven't looked at all the numbers yet," said Russell Buhr, who serves as co-chair along with John Fredrickson.
"On Sunday, of course, everybody is trying to move out, but we still had people come in because there was still stuff to see and people could see stuff moving out. I think a lot of venders did real good and it just turned out real well."
The every-other-year show that's held just before the Farm Progress Show in Decatur featured corn and soybean harvesting, plowing with tractors, steam engines and horses, corn shelling, tractor pulls, daily power parades and numerous other festivities.
"Every tractor has a story and there was a lot of stories."

—  Russell Buhr, co-chair, Half Century of Progress Show
The show also recognized a century of Farmalls and the diamond anniversary of the Allis-Chalmers D21 tractor, as well as other highlights.
Heritage Tractors
This year's theme was "Family Heritage Tractors" and included a large display of tractors that have been in the same family for generations or ones that were once owned by the family and later found and returned home.
In the weeks and days leading up to the show, Buhr wasn't sure how many heritage tractors would show up for the display. The turnout was above any expectations with so many tractors that there was no more room in the dedicated site.
"We had a spot there for the tractors and then Gene Shoup could not be at the show with his NDY display, so we put a bunch of heritage tractors at that location, too," Buhr said.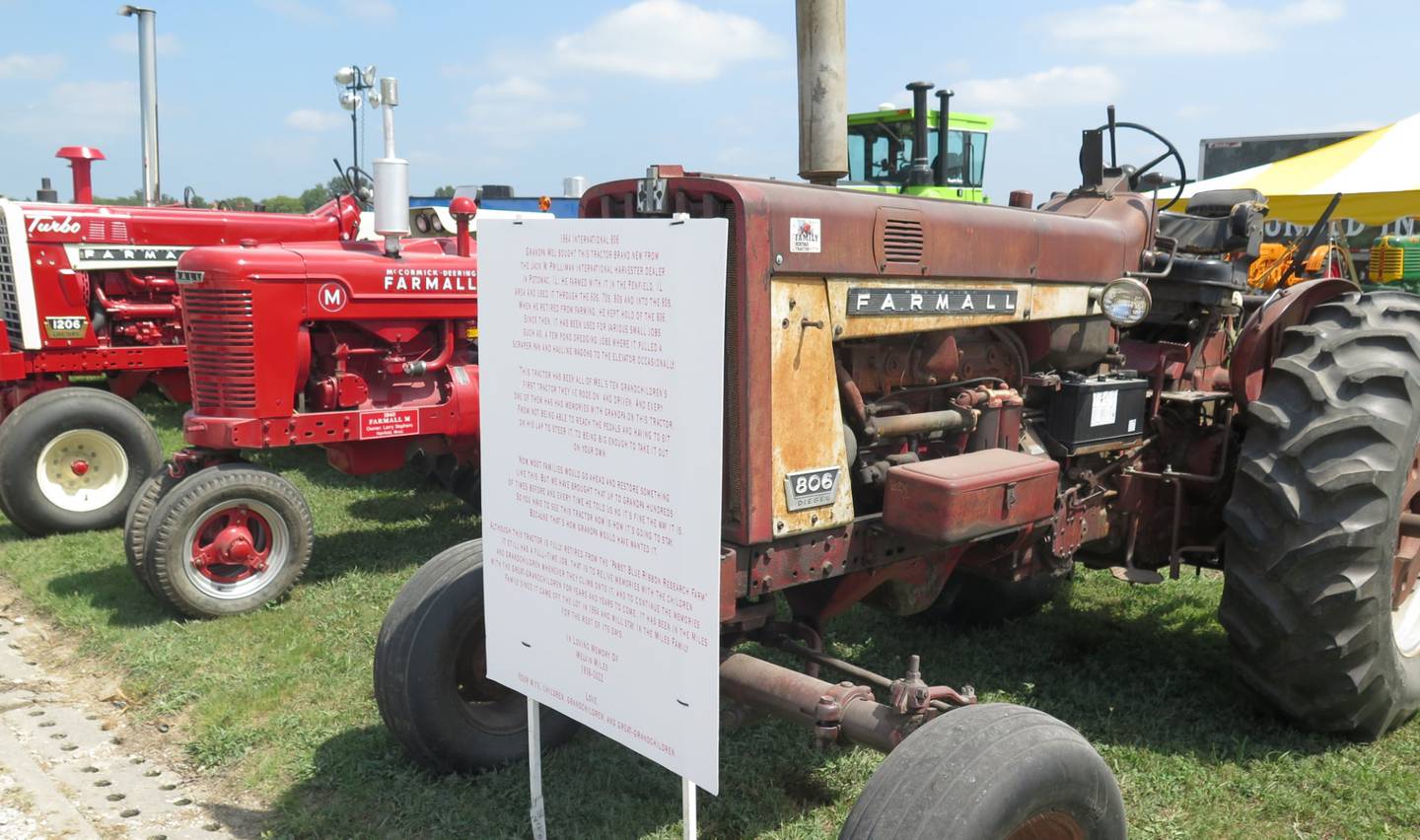 Several of the tractors included its family's history in writing and photos, personalizing each display for those who visited the exhibit.
"It really went well. Every tractor has a story and there was a lot of stories with people telling about this and telling about that. It's great to hear all of that and it brought back a lot of memories. A lot of families came to see it," Buhr said.
"People heard that the family tractor was going to be there, so they wanted to see it. Some of them hadn't seen the family tractor for a while. It went somewhere else or when they went to the farm maybe they never went back to look at the tractor.
"Some people are also really interested in somebody else's tractor, too, if they know the family and they think, 'Oh, gosh, they still have that 4020, that Farmall M or something."
Volunteers
The Half Century of Progress Committee is comprised of members of the I & I Antique Tractor and Gas Engine Club and relies on scores of volunteers to help the event run smoothly for its visitors from throughout North America.
"We just have a super group of volunteers to do everything. They were at the gates, out in the fields trying to help, and helping wherever they could. Monday and Tuesday after the show we still had people helping to put everything away and get that done,' Buhr noted.
"It wouldn't be possible without all of the volunteers donating their time for the show and a lot of people drove a lot of miles to help us. They just want to be a part of it."