MALDEN, Ill. — Many factors have played into Steve Linker's passion for collecting and restoring vintage tractors. But one moment in 2014, captured in a photo, will always be front and center.
"He came out and the tractor was sitting in a pile of weeds. He said, 'Is there any way I could get one more ride?'" Linker recalls, with a catch in his voice. "That's what started the whole thing."
The tractor in question is Linker's orange 1935 Case CC. The tractor had a special connection to Steve's dad, Jerry Linker.
Jerry's father, Steve's grandfather, Bill Linker bought the tractor new in 1935. The tractor was sold at auction when Bill retired and the family lost track of it — or, at least Steve and his dad thought they had.
Harold Steele, another well-known collector and Bureau County resident, called Steve to ask if Bill had ever owned a 1935 Case CC. Steve said his grandpa had indeed.
Then Steele surprised Steve by telling him that Steele's sister, Marion Lines, and her husband, Harold, had not only purchased the tractor, but also had found the original bill of sale with Bill's name on it.
He asked Steve if he wanted the tractor back — and Steve said yes.
"The tractor was back in the family," Steve said.
Although the tractor was back with Steve and his dad, it was in bad shape. So, when Jerry, who was in failing health by then, asked for one more ride, Steve knew what he had to do.
"I said, 'All we can do is try, Dad.' We destroyed another tractor to make it happen, but we did it. He got his ride. That picture is of his first ride, up the driveway. Seeing him that happy and seeing that smile, that is priceless to me," Steve said.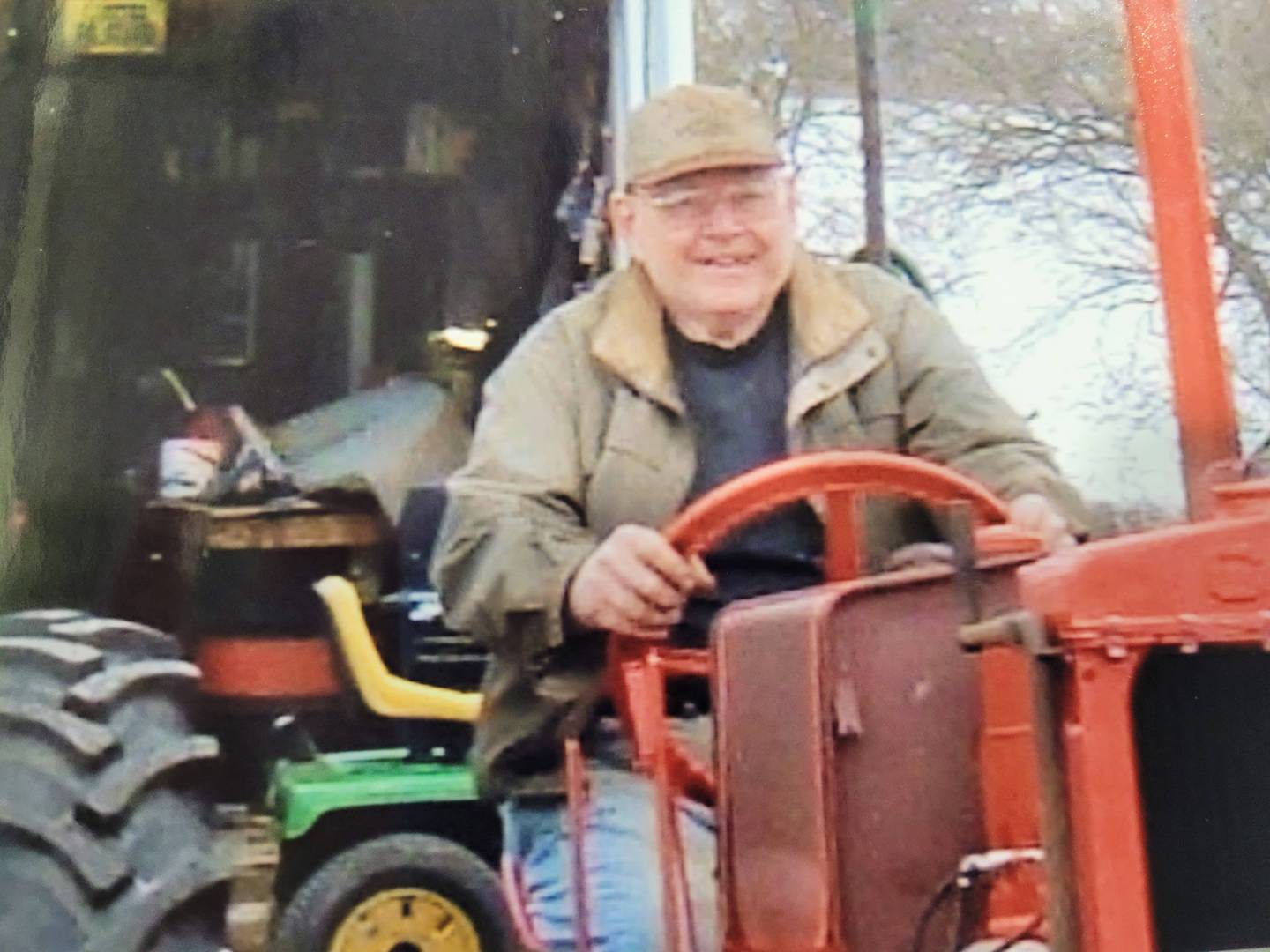 Restoring the Case took four years, and Jerry made his trip up the driveway in it in 2014. He passed away in February 2018.
The work on the Case was a tribute to the person Steve credits with teaching him about vintage tractors and restoring them.
"It's something my dad taught me. My grandpa collected and restored them, but my dad taught me more or less everything I know," he said.
The 1935 Case CC is one of four tractors — out of the Linker collection of approximately 20 — that Steve and his mom, Joyce Linker, take around to shows, demonstrations and parades, from Ohio to Franklin Grove to Sycamore and beyond.
Each of the tractors has its own story, and for one, the largest of the four, a 1928 Rumely Oil Pull 40-60 Z, the story nearly came to an end a few years ago.
Steve's shop is at his parents' home in Malden. On April 7, 2019, he left to go to an appointment in Princeton. Joyce was gone for the day visiting friends in Rockford.
A few days prior, Malden Fire Chief Travis Rossler and Malden Fire Department firefighter Jerry Jackson, friends of the family, stopped by the shop to get some parts from Steve.
"Rossler had to walk around the Oil Pull, so he knew where it was sitting," Steve said.
So, when the Malden Fire Department got the call of a fire at the Linker shop, they went to work to save the Rumely.
With the door to the shop locked and unable to be opened, they chopped holes through the door to fit firehoses through.
"Jackson poked the holes and put the hoses through and said, 'Don't move those hoses,'" Steve said.
A neighbor called Steve.
"I was just pulling into the veterinarian's office in Princeton, and he said, 'You better get back here fast — the shop is on fire,'" Steve said.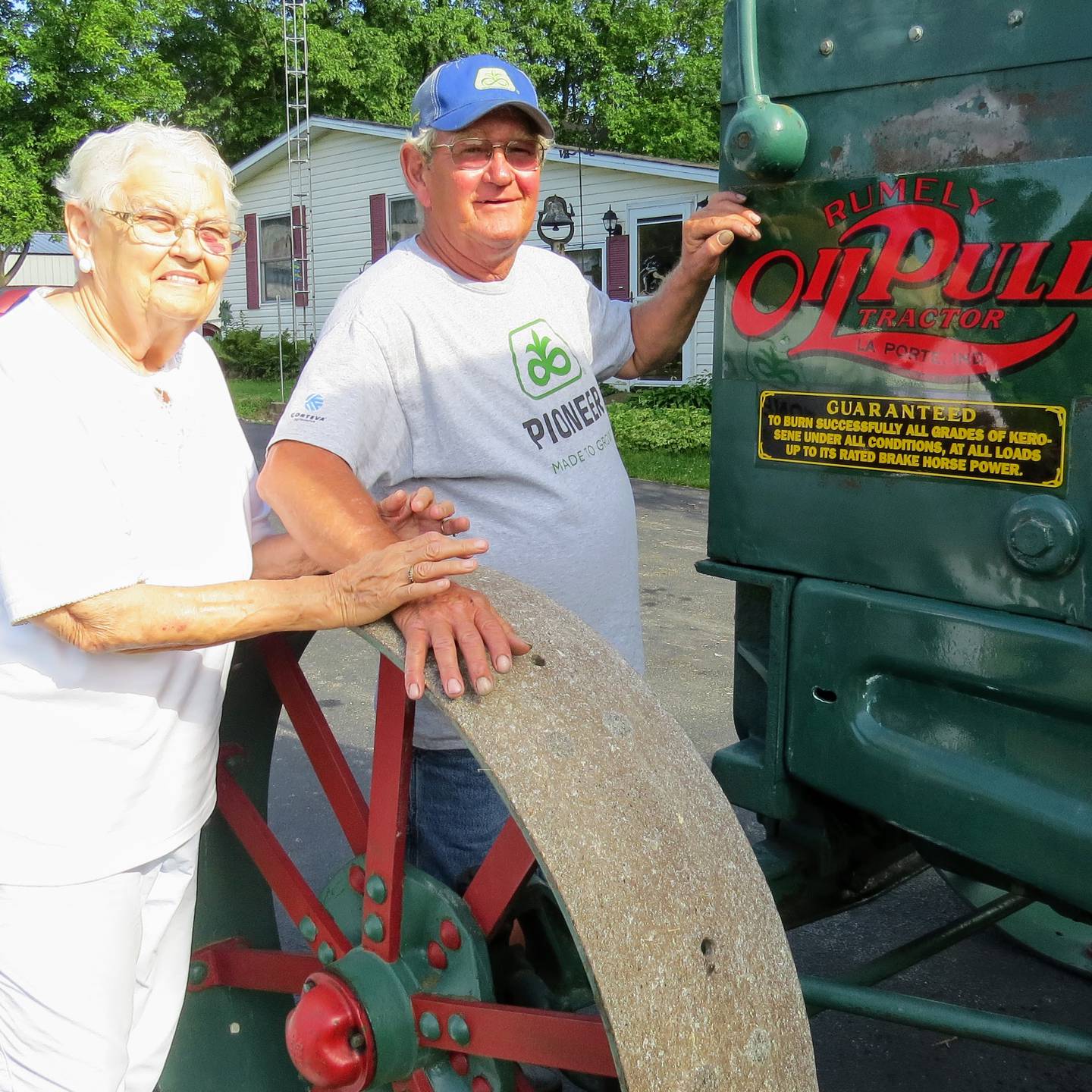 As he raced home, his thoughts were on the Oil Pull. It, along with another, smaller tractor, were the only two in the shop in Malden.
"I could see the smoke from out on Route 34. I didn't think we'd ever save the Rumely. It's all oil cooled and it burns oil and it had probably 30 gallons of gas in it," Steve said.
Joyce was on her way home and had stopped in Mendota to visit family when a neighbor called to tell her the shed was on fire.
"We got outside of Mendota and we could see the smoke from there, the fire was that big," she said.
The shed was a complete loss, but the Linkers and the firefighters managed to save some of the antique single-cylinder gas engines that Joyce and Jerry collected.
The Rumely was saved, but Steve had doubts if it could be restored. The tractor had an arched wood roof, held up by wood supports, and wood blocks to brace other parts of the engine.
"I had to have a new roof made for it and new boards on it. I had to change all the fluids. There was water in all the fluids. It was a job. It took me six months, but I got it," Steve said.
To the untrained eye, the Rumely looks like it could go to work right now, but Steve still sees the scars of the fire.
"It's still in bad shape. You can see it was burned up," he said.
Joyce usually joins her son at the shows and parades. For her, tractors are not only a hobby, but something that runs in her family, as well.
"I started out going to shows with my husband and our kids, who were just little then. We just had gas engines at that time," she said.
It was through her father, Verner Hensel, that Steve came to have the Rumely and a 1919 Russell Model B. Joyce's father gave her both of the tractors before he died in 1995.
Sharing the stories of the family tractors and answering questions — about family, farming and vintage iron — is the part that Steve enjoys most about the many shows and parades that he and his mother and their tractors attend.
"The thing about tractors like these is that each one is unique, each one has its own story," he said.
If You Go …
What: Ohio Days Celebration
When: July 29-31. The parade, including the Linker tractors, will start at 1 p.m. Sunday, July 31. Tractors will be on display following the parade.
Where: Washington Street, Ohio, Ill.
More information: Ohio Days Celebration page on Facebook
If You Go …
What: Living History Antique Equipment Association Annual Show
When: Aug. 6-7
Where: 1674 Whitney Road, Franklin Grove, Ill.
More information: www.lhaea.org