AUBURN HILLS, Mich. — The new Mahindra ROXOR off-road side-by-side is a durable vehicle built to last.
"ROXOR is a rugged workhorse like no other," said Rich Ansell, vice president of marketing for ROXOR, during the launch of the new vehicles that are now available at Mahindra dealerships.
"ROXOR is an opportunity to complement our tractor business," said Viren Popli, president and CEO, Mahindra Ag North America and Mahindra Automotive North America. "As we work with rural lifestyle customers, we found there's a need for a unique side-by-side."
"One of ROXOR's greatest strengths is its durability and that durability starts with the way the vehicle is built," Ansell said.
"Mahindra has been making tough, frame-based vehicles in India for over 70 years, and if you've been to India, you know how rough the roads can be, particularly when you get outside of the major cities," he said. "Making vehicles that are strong enough to withstand these challenging conditions remains the core of Mahindra's DNA."
The strength of a ROXOR begins with its heavy-duty boxed steel frame.
"Add to that a body made from heavy gauge steel, heavy duty transmission and a Mahindra 2.5L turbo diesel engine that puts out 62 horsepower and generates 144 pounds of torque," Ansell said.
ROXOR has a tow capacity of 3,490 pounds.
"That is far more than just about anyone else in the category," Ansell said. "With the 12-gallon fuel tank and great fuel economy, you can stay in the fields or out on the trails a lot longer."
The five-speed, manual transmission comes with a two-speed manual transfer case with two-wheel and four-wheel drive.
Customers can choose either red or black for their ROXOR that is available in two configurations — a Base or All-Weather Model. The starting price for the Base Model is $18,899 and for the ROXOR All-Weather Model, $26,299.
"The All-Weather ROXOR includes a cab, doors and a heat and air-conditioning system," said Mike Dragojevic, vice president of sales, service and parts for Mahindra Ag North America.
"Simplicity is what makes ROXOR easy to customize and a big part of the experience of being a ROXOR owner is the accessories to make their ROXOR uniquely their own," Ansell said.
"We offer an array of factory-designed and engineered accessories including a lift kit system, heavy-duty bumper upgrade, an 8,000-pound Warn winch, KC light bar, polycarbonate windshield and auxiliary power system for electronic accessories," he said. "All these great accessories can be installed at ROXOR dealers."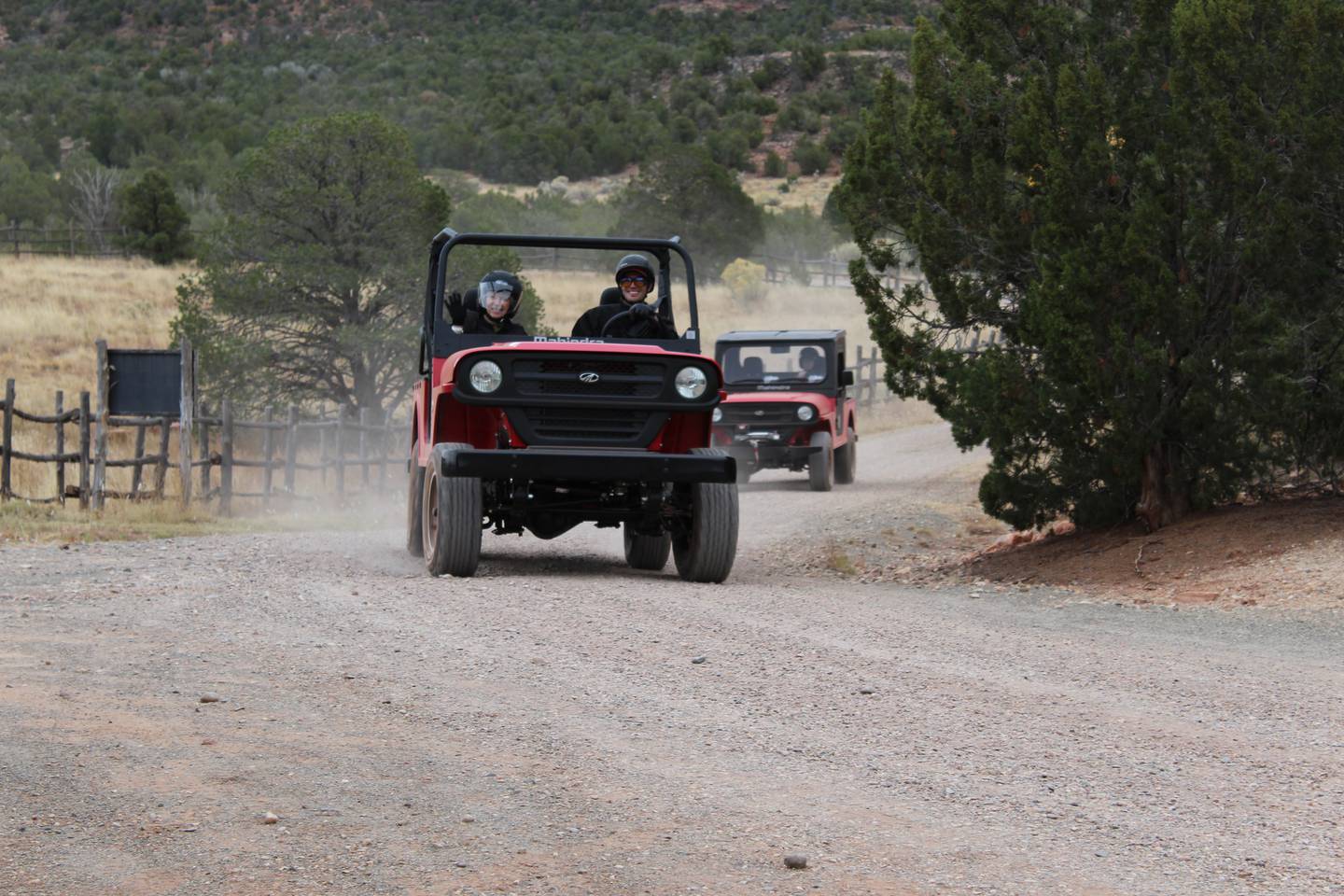 Farmers and rural lifestylers, Ansell said, work and play hard with their vehicles and as a result need something that can stand up to the demands of daily use.
"These people want a heavy-duty vehicle they can work with every day, all year," Ansell said.
"They've owned traditional side-by-sides and have grown tired of the plastic body and light-duty nature of these vehicles that are not built to be day in, day out, hardcore work vehicles," he said. "They break and in many cases need to be replaced after only a few years of use."
Reliability is important to those who live and work off their land, Ansell said.
"While purchase price is a consideration, they're also looking at the overall cost of operation, how long it will last, how often it will break, how easy it is to service and how fuel efficient it is," he said.
"Our customer satisfaction study we conducted in 2019-2020 showed 90% of our owners responded that they were very or extremely satisfied with their purchase," he said.
ROXOR has clear and distinct advantages over the vehicles it competes with, Ansell said.
"While it's a simple vehicle in many ways," he said, "it's premium in function and built to last."
"Our customers love that ROXOR is cool and different," he said. "They don't want to be part of the side-by-side herd."
For more information about the ROXOR off-road SXS, go to www.roxoroffroad.com.
ROXOR At A Glance
Models: Base or All-Weather
Colors: Red or Black
Towing Capacity: 3,490 pounds
Transmission: 5-speed manual
Engine: Mahindra 2.5L turbo diesel
Max Speed: 55 mph