BLOOMINGTON, Ill. — A new nutrient application system developed by two northern Illinois farmers was featured at the annual Midwest Ag Industries Exposition.
Kirkland area farmers Jeff Heinsohn and Andy Blackmer created EZ-Drops out of a need for an adaptive system to apply nutrients on target to the base of the plant, in-season, using the full boom at high speeds.
Sidedress solutions others offered didn't meet their standards. After years of making in-field improvements they developed EZ-Drops as a product that could solve a problem for other farmers, as well.
"We developed it on our farm in northern Illinois. We just thought there should be a better solution to be able to adapt to the rolling terrain and adapt to the crop off planter passes, off hillsides and all of that and do an easier job," Heinsohn said.
He, along with his father and brothers, operate a dairy farm near Kirkland where they also grow corn, soybeans and some alfalfa.
"We started out like the industry did, just dribbling hoses, and knew that late-season nitrogen was going to pay. We knew that we could do a good job monitoring the nitrates in the soil and the plant and adjust our program to the weather," Heinsohn said.
"We're going to have to do that more going forward to be more environmentally friendly. The consumer wants that. We need to do it and I think the government wants us to do it.
"We need to be able to spoon-feed the crop with what nitrogen we're going to be able to use in the best possible way and that's when that crop needs it when it's growing.
"We started with that genesis, realizing that we needed to get the nitrogen down there and realizing we're as far away from the plant as we can get right now (with standard applicators), let's get it to the base of the plant. We wanted to do it full boom, full sprayer pass and match up our tramlines, not knock anymore crop down, and get something done, and get it across your acres at the right time."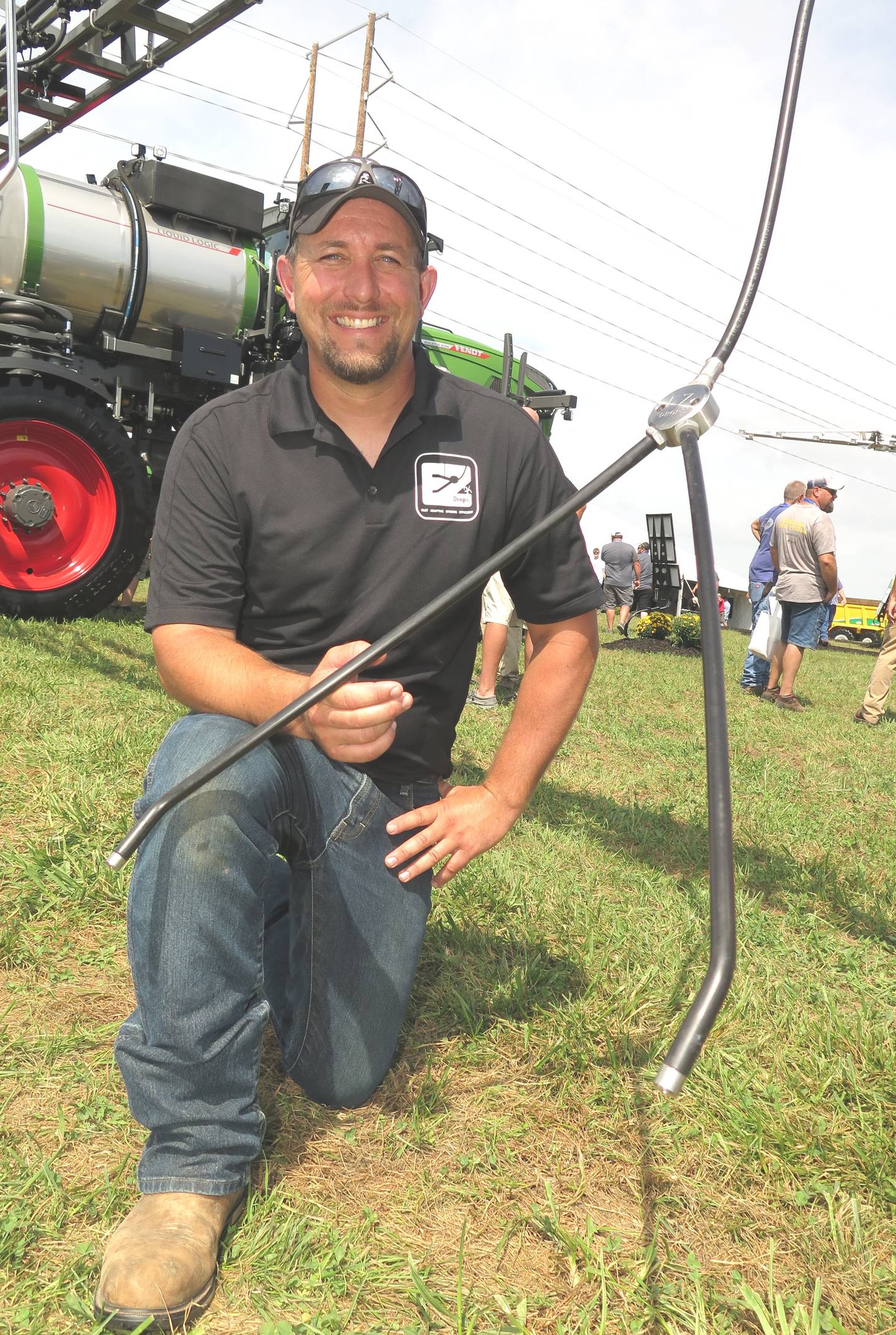 The EZ-Drops were on the new Fendt Rogator 900 series applicator on display at the AGCO exhibit during MAGIE.
"The new Rogators are able to go into a higher crop and take care of it. We have a lot of units on Hagies and higher clearance, but now Rogator is in that market and has a really good option to be able to do that," Heinsohn said.
"The optimal time to apply nitrogen is that V10 timeframe when it's really starting to take up nutrients, but as it gets later in the season and the extra height, there's a big advantage being able to get in there."
The lightweight and flexible quick-attach pivot mount EZ Drops nitrogen delivery system is available for all row widths — 15, 20, 22, 30 and twin row — for both pull-behind sprayers and sidedress bars and are available in high- and low-clearance models.