DECATUR, Ill. — The Case IH company builds tractors and equipment to serve farmers and the farming industry.
"We are really happy to show you what's new at Case IH, but we also want you to know what we stand for," said Scott Harris, Case IH vice president of North America.
"When I took this role, I went to all our North American manufacturing facilities and met the men and women who build our machines and talked to the engineers, dealers, sales people and technicians," said Harris during the Farm Progress Show. "I was struck by the overwhelming majority of Case IH employees and dealers who farm or come from farm families."
Harris talked about the Case IH Built by Farmers campaign.
"We're here to celebrate and honor farmers and farming," he said. "When you see a Case IH sign in front of a dealership, on someone's hat or the chest of a shirt, you know there's someone who gets it and someone you can trust. That's what we stand for."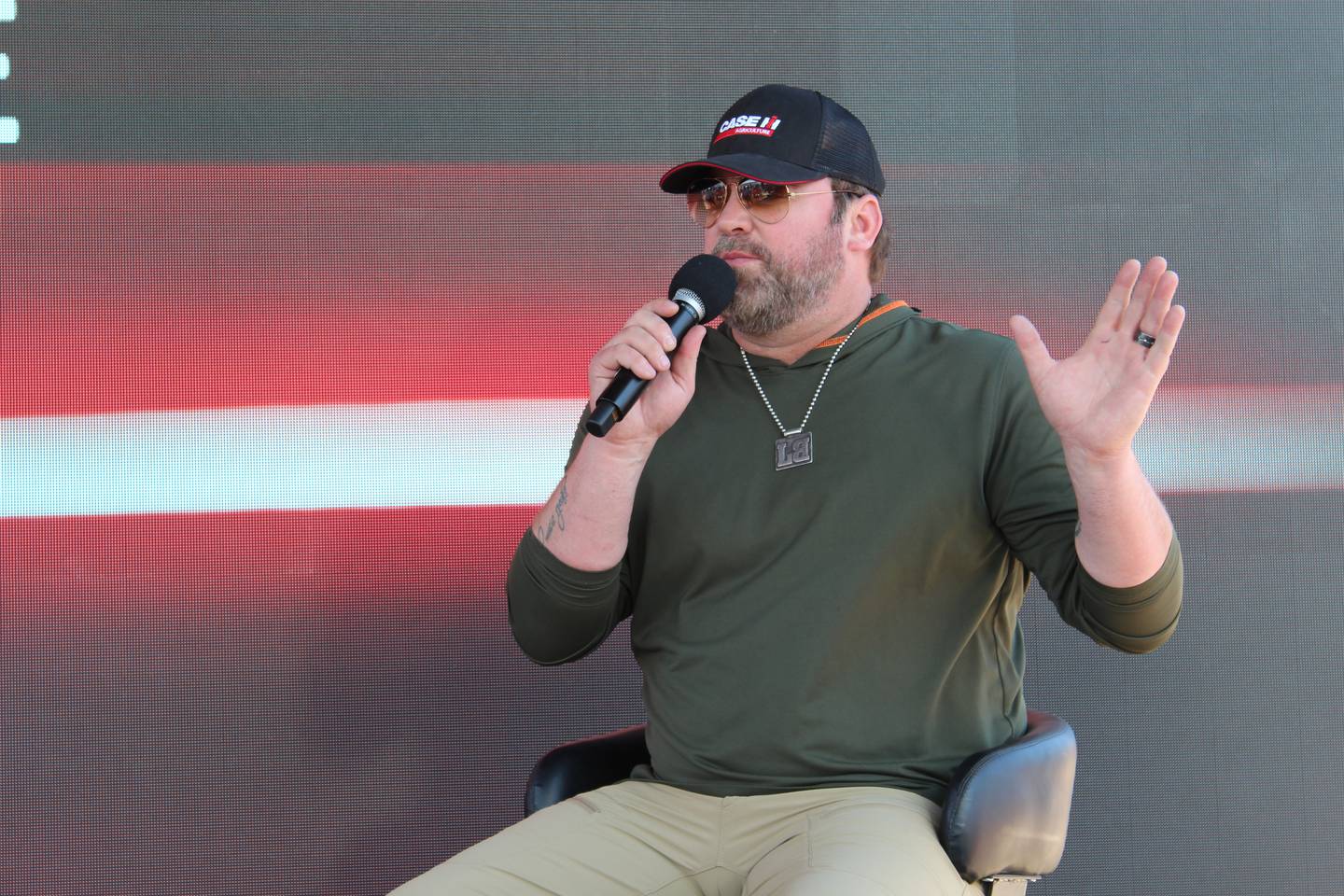 Case IH is partnering with Lee Brice, who wrote the song, "Farmer," and sang it for the first time during a concert at the show in Decatur.
"This is the kind of song I love to write," Brice said. "It's an inspiring song that lifts somebody up. That's what this song is about."
"I've listened to the song 100 times, and I still get goosebumps when I listen to it," Harris said. "He has captured the essence of our intent because he's genuine and the song came from the heart."
Brice owns a farm and is in the process of building a house.
"My lifelong goal is to build a house there," he said. "My kids want to be out there all the time, and I love that because when they are there, they are not talking abut TVs or iPads."
WD5 Series Windrower
The new WD5 series windrower was on display in the Case IH area at the Farm Progress Show.
"The WD5 series is built with productivity in mind," said Brian Spencer, Case IH hay and forage marketing manager.
"With the entirely new drivetrain system, the windrower goes 30 mph on the road and it has a 20 mph cutting speed in the field," Spencer said. "We have lengthened the wheelbase for more stabilization on the road."
Since a comfortable, non-fatigued operator is more productive, Spencer said, Case IH focused on the cab and suspension for the windrowers.
"The rear axle is supported by a single air bag, which reduces the number of maintenance points on the machine," he said.
"The all-new tuned cab suspension reduces the fore/aft impacts to make a soft ride in rough fields," he said. "Inside the cab, there is a new leather high-back heated ventilated seat with semi-active suspension to keep the operator cool and comfortable, and we've added window tinting."
Customers are looking for a fantastic cut quality, Spencer said.
"That's what we targeted, and the improvements we made in the head will give us a finished mower-like cut," he said. "We've added components to give us better crop control to develop and lay out the windrow to get that consistent drydown."
"From the knife tip to the rear axle all the way up through the cab, the WD5 is packed with technology," said Leo Bose, Case IH harvesting marketing lead. "With AFS Connect we can see the unit in the field and look at fuel levels and location, which are critical to run a high-efficiency operation."
Prescription Tillage
"I'm introducing a new concept of prescription tillage," said Chris Lursen, Case IH tillage marketing manager. "You've been doing this in seed and probably fertilizer applications where you prescribe a phosphorus and potassium level for a given area of the field to complement the needs of the soil type and yield potential."
The same concept is applied to tillage by using the AFS Soil Command system to take a prescription created in the AFS portal and transfer it to the machine, said Lursen, who grows corn and soybeans on his 1,400-acre farm in northeast Iowa.
Case IH tested prescription tillage in five fields located in North Carolina with a 875 disk ripper.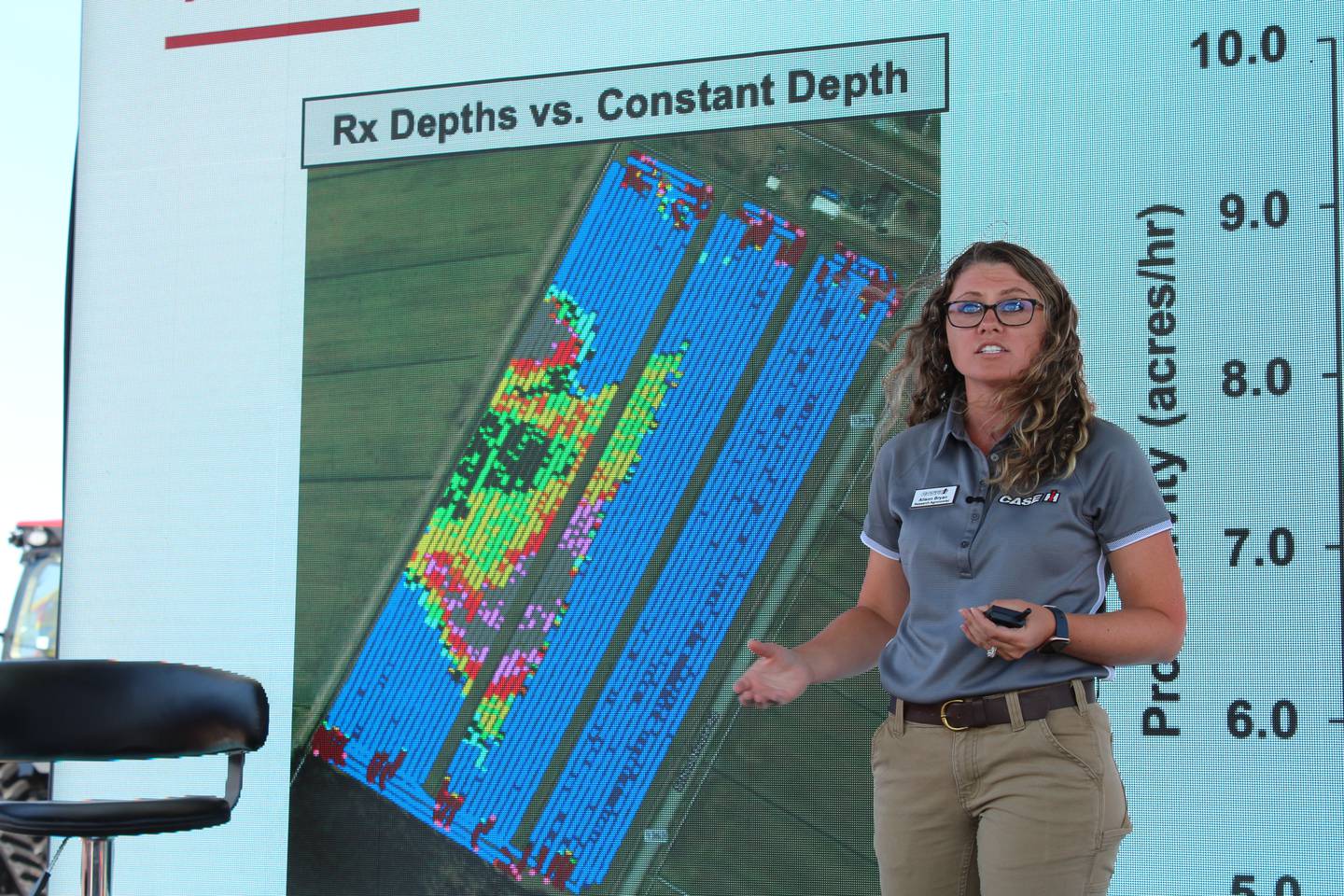 "With a disk ripper, we are trying to alleviate compaction by setting the shank an inch beneath the compaction layer to knock it out," said Alison Bryan, Case IH tillage research agronomist.
"We did that for these prescriptions. We ran at different depths depending on where the compaction layer was," Bryan said. "For the different soil management zones, we were at 5 to 14 inches of depth depending on what was needed."
After determining the prescriptions for the fields, the fields were divided into two sections.
"The other half of the field we ran at a constant depth of about 13 inches," Bryan said. "We saw an improvement of 9.5% with the prescription tillage."
"From that study, getting one acre per hour improvement is huge," Lursen said. "Bringing back 1.5 days worth of time at the end of the season means you can go do something else or finish your ripping process before it freezes, which gives you back 10% to 20% of your yield if you can manage that compaction."
For more information about Case equipment, go to www.caseih.com.