BLOOMINGTON, Ill. — Illinois Milk Producers Association during its 2022 annual awards program recognized two farmers who showcased leadership, stewardship and excellence in the dairy industry.
David Ruppert of Montgomery County is the recipient of the 2022 Dairy Industry Service Award.
This award recognizes an Illinois individual who has shown exemplary service and benefit to the state's dairy industry.
Ruppert grew up on his family's dairy farm and first began farming with his parents in 1974.
Ruppert served on the Prairie Farms Board of Directors for 20 years. He also held a 16-year tenure on the Illinois Board of Livestock Commissions, a governor-appointed position.
Additionally, Ruppert has served on the Lincolnland Holstein Club Board of Directors and as president of the Illinois State Holstein Association, among other leadership roles.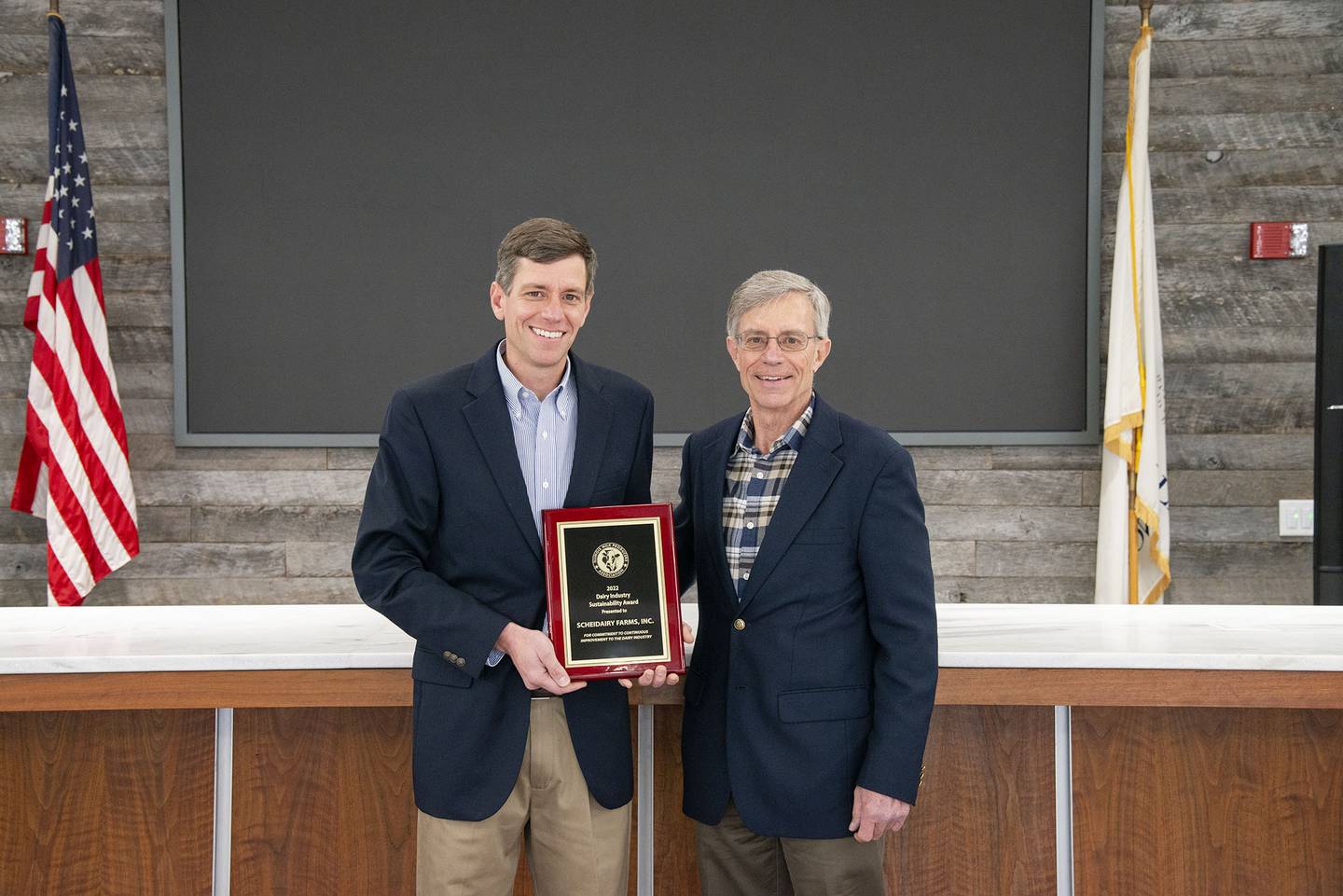 The 2022 Dairy Sustainability Award recognizes an Illinois dairy farm or dairy farmer who has made outstanding contributions toward innovative technologies and best management practices to improve environmental stewardship and economic viability.
This year's award recognizes Scheidairy Farm in Stephenson County. Today, the operation is managed by Doug and Trish Scheider, fourth-generation farmers, and Dan and Sarah Scheider, fifth-generation farmers, who milk approximately 650 Holstein cows.
The Freeport dairy farm, which has a long history of farm partnerships, is a progressive and environmentally conscientious farm utilizing cover crop best practices in addition to investing in their cows' comfort.
Their herd is consistently in the top 100 herds for energy corrected milk for Central Star Dairy Herd Information Association Cooperative, which serves Minnesota, Wisconsin, Iowa, Illinois and Indiana.
The Scheider family also recycles water and sand in their barns. Water is used to cool milk and plate coolers, which allows the dairy to decrease energy use.
After the milk cooling process, the water is recycled and used to clean the milking facility. It is captured and stored again, where it is used to wash sand in the sand separator.
Sand laden manure is mechanically separated, allowing the dairy to clean and reuse the sand as clean bedding for the cows.
The Scheiders host many dairy tours to showcase their environmental efforts. They host an annual tour for medical students from the University of Illinois College of Medicine Rockford.
Dan Scheider was also the first non-Wisconsin resident on the Professional Dairy Producers of Wisconsin Board of Directors, which provides educational opportunities for dairy farms.