INDIANAPOLIS — Hoosiers were predicted to spend less than $6.50 per person on food this Fourth of July, 13% more than last year, but nearly 8% less than the national average.
The price includes ground beef, cheese, hamburger buns, pork chops, chicken breasts, pork and beans, potato salad, strawberries, chips, ice cream, cookies and lemonade.
"It's been a difficult year so far and the increased cost in food is a concern," said Isabella Chism, second vice president at Indiana Farm Bureau.
"Consumers are seeing the impacts of a perfect storm of factors that are driving up prices. This year's summer cookout market basket reflects what Hoosiers are seeing when they go to their local grocery stores. However, our cookout costs here in Indiana are less than the average cost for the rest of the country and even our neighboring states here in the Midwest."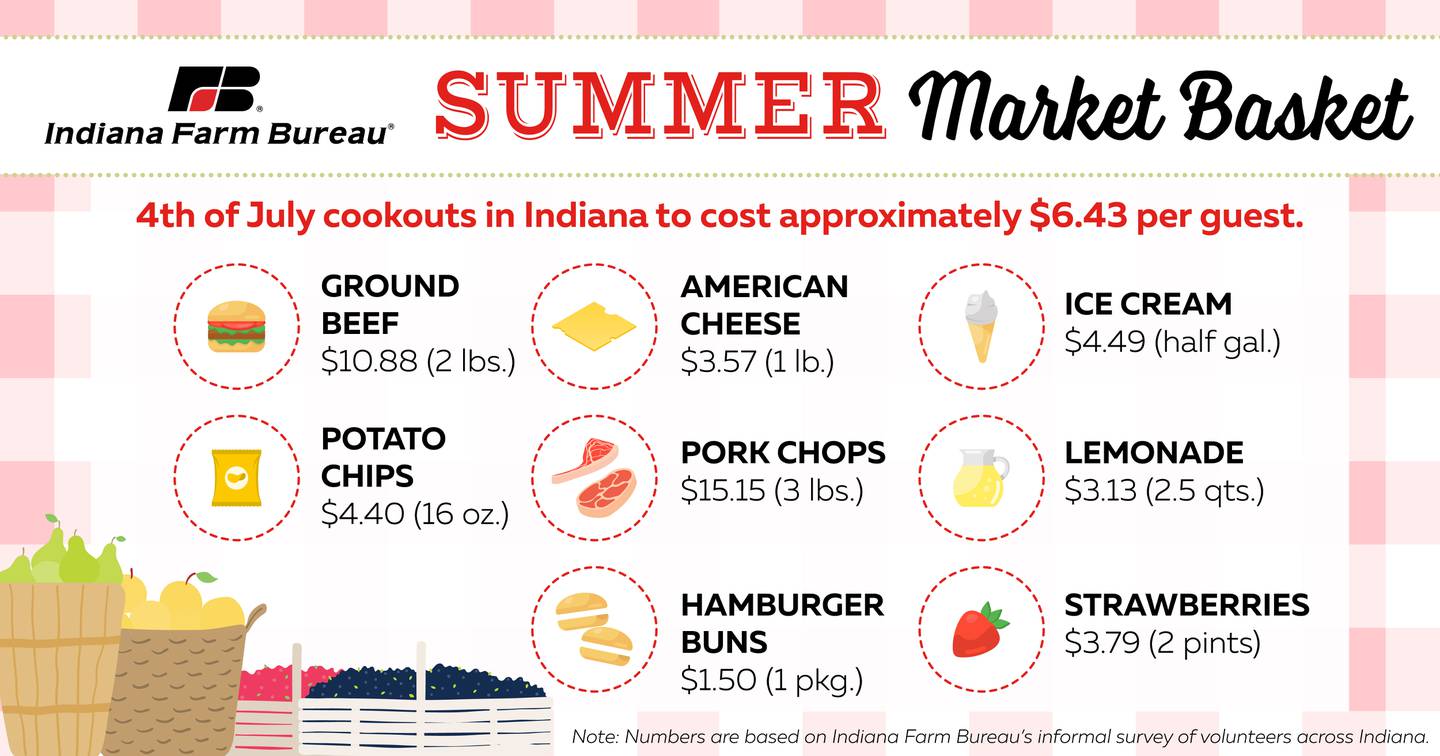 In a nutshell:
• Hoosiers can anticipate spending an average of $64.32 on a cookout to feed 10 people this summer, or $6.43 per person. Indiana's summer market basket is 7.7% lower, or 56 cents less than the U.S. average price of $6.97 per person. Indiana's price is 7.2% lower, or 54 cents less than the average price for the Midwest region of $6.93 per person.
• In the food supply chain, just 8 cents of every consumer food dollar can be attributed to farm production, after accounting for input costs. The farmer's share of this $64.32 market basket would be just slightly more than $5.
• While most items on the shopping list are more expensive than last year, strawberries and lemonade are not.
• Nearly all items on the shopping list came in less than the national average. Only cheese is more expensive in Indiana this year than it is nationally.
According to the American Farm Bureau Federation, the main drivers of the increase are inflation, global supply chain issues from the war in Ukraine and lingering disruptions due to COVID-19.
Input costs have also increased for farmers, including higher prices for seeds, fertilizer and chemicals, making 2022 a tough season for many growers.
To view the national report, visit tinyurl.com/54kzz6ss.