EATON, Ind. — For most brides, their dream wedding includes decorating the space where they will say their vows, putting their own stamp on the venue with flowers and decorations in their wedding colors.
But most brides don't have to literally rebuild their venue almost from the ground up as part of the preparations for their big day.
For Kristy Smoot and the big old barn on the farmstead her fiancé Evan had just bought, it was love at first sight.
"I said, 'OK, the house, we are going to completely gut the house. But I love the barn,'" she said.
A tour of the barn, which hadn't been used as anything other than storage, sealed the deal for her.
"I climbed up the ladder to the hayloft. You couldn't even walk up there. You could just peek your head above the floor and look. I said, 'Let's get married up here,'" she said.
Evan, who farmed then and now with his family, bought the farmstead because his family was farming the ground around the house and buildings.
"He said, 'OK,'" Kristy said.
Refurbishing the barn to a condition where it was safe, clean and comfortable enough to host a wedding took around 14 months.
The first step, for Kristy, was a nail-biter as they consulted with a structural engineer and an architect to find out if the barn could be saved.
"My heart was set on the barn. I was mentally prepared to be, 'OK, we'll do a tent out by our pond and that's where the reception and ceremony would be.' I just wasn't prepared for my husband to completely demolish the barn," she said.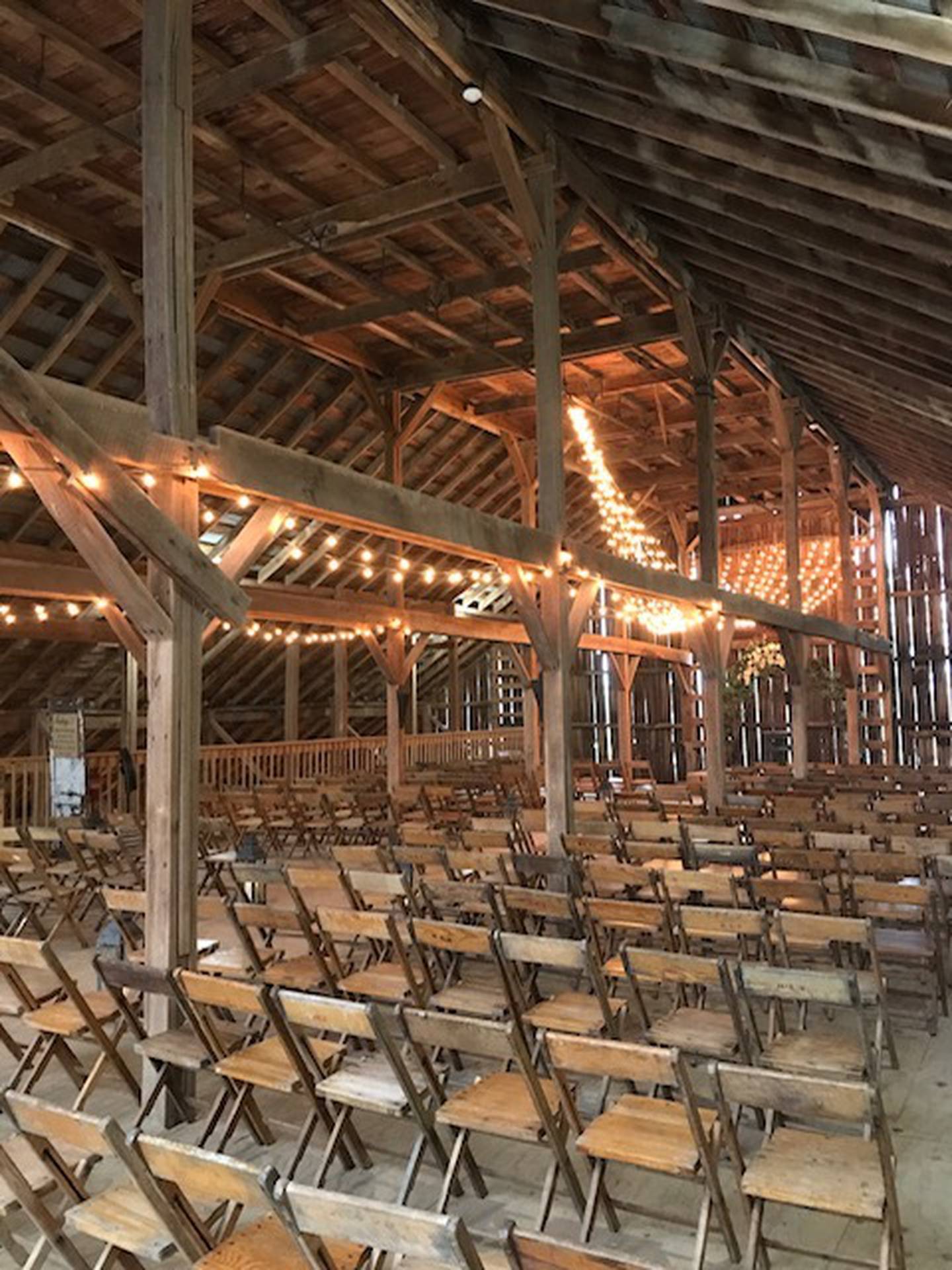 After getting the thumbs up from the engineer and the architect, Kristy and Evan and their families worked almost nonstop. The first job was simply clearing away debris.
"There were old cars, old tractors, an endless amount of horse manure. We were just clearing it out," she said.
The barn, built in the early 1900s of native Indiana hardwood, was refurbished with a new roof, new flooring, new floor joists, opening up part of the hayloft for ventilation and the necessary improvements to comply with local building codes.
By the time the wedding day, Oct. 4, 2014, rolled around, everyone was excited to see the results of the work Kristy, Evan and their families had been putting into the 8,600-square-foot barn.
"It was down to the wire. It was the week of the wedding and we were doing the little final touches on the barn itself. The community had heard about what we were doing and it was all leading up to our wedding, so it was like 'Here's the barn — and welcome to our wedding,'" she said.
Hosting other weddings and events wasn't on Kristy's radar then. But when family and friends saw the barn on her wedding day, they urged her to consider renting the barn out to other brides.
"It wasn't even on my radar," she said.
Once she decided to turn the barn into a wedding venue, she went through the zoning and permitting process.
The time, money and care that the Smoots had put in to making sure the barn was sound for their own wedding have turned into something that other brides and their families and friends now enjoy. The Barn on Boundary opened for bookings in mid-2015.
Evan farms full time with his family and takes care of the maintenance. Kristy has a full schedule and then some. In addition to running the Barn on Boundary, she works as a dental hygienist part-time and the Smoots now have a 2-year-old son.
"I've always been busy. I have never had downtime, so I don't know any different. It helps that my husband and I are homebodies, we don't vacation often," she said.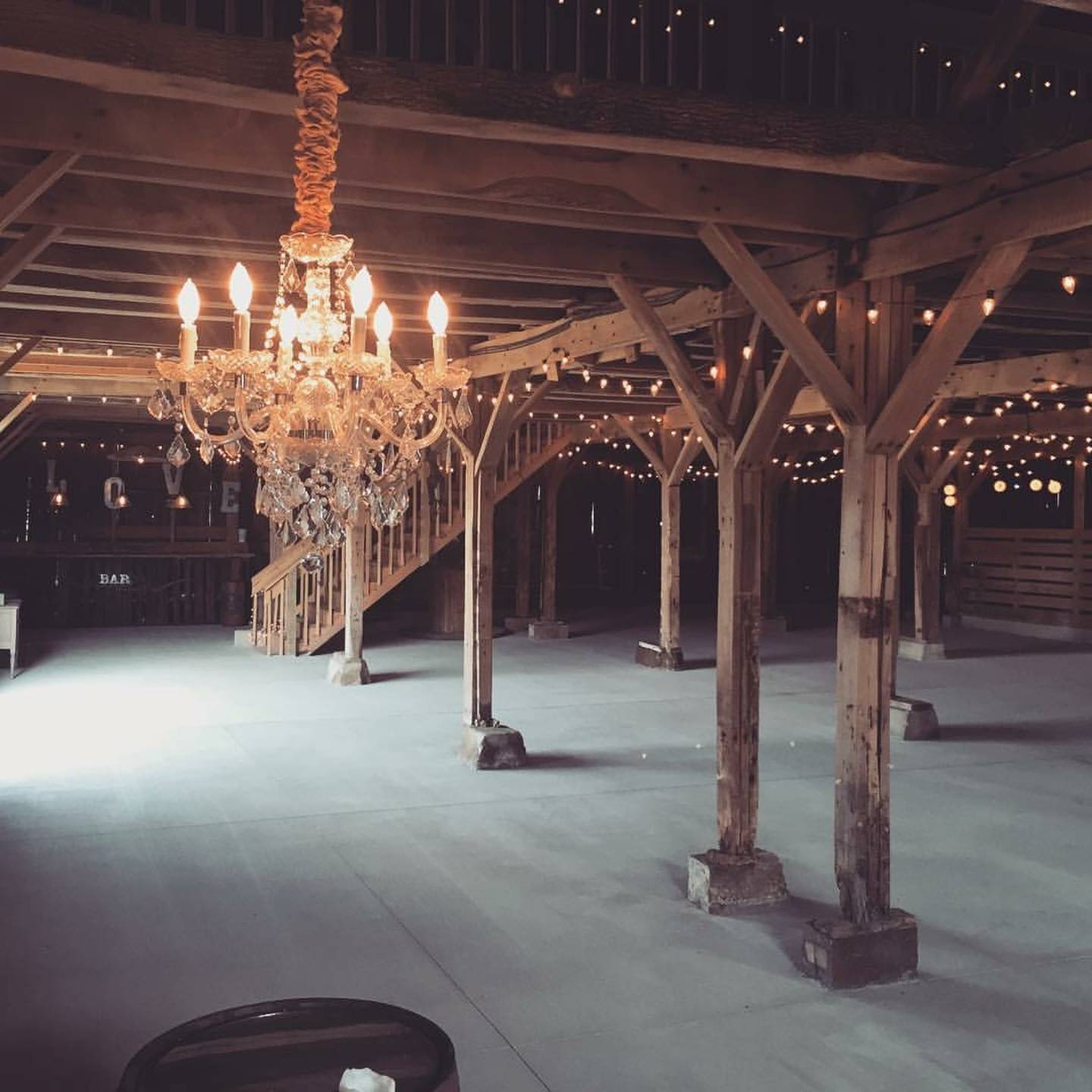 A sweet gesture that she started for the brides who rent the barn, gifting them with a homemade candle, added one more item to her list. Kristy also owns and operates Boundary Candle Co.
"People kept saying, 'I want a candle,' so I thought, 'I'll make a website and start making candles to have in the barn office,'" she said.
Kristy hosts one wedding per weekend. The barn can hold a total of 275 guests. The bridal parties have use of the barn from 2 to 8 p.m. on Friday, from 8 a.m. to midnight on Saturday and 8 a.m. to noon on Sunday.
Kristy and a staff of three work during the week to clean the barn and get it ready for the next wedding.
The rental season runs from April to November. Kristy, whose own wedding day featured less than ideal weather, said she mentions weather immediately when talking to future brides about booking.
"The weather on our wedding day ended up being 30 degrees and sleeting. It was so windy that we had to park grain trailers around the barn with straw bales under them to block the wind. So, I am brutally honest about the weather and the barn. Whatever is going on outside, that is what it is going to feel like in the barn," she said.
With barn weddings — and wedding barns — in high demand, customers are not deterred by the mention of weather.
"Typically I am booked every single weekend, April through November. June, September and October are the three months I typically book right away. Those months fill up first and fast," she said.
With brides coming from Indianapolis, Fort Wayne and other areas of the state, Kristy said she lets the Barn on Boundary do her advertising.
"I wanted to keep the authentic, original barn as much as I could and I love how it turned out. If you do a nice job and treat people well, they are going to hear about you," she said.
Even during the pandemic, brides preferred to postpone rather than cancel. For the Smoots, that worked out perfectly.
"We had 13 weddings postpone and they were able to find a date the next year, so we just shifted the weddings. Our son was born in April 2020 and he was born a day before what would have been our first wedding for that year. That wedding was postponed, so it worked out," she said.
Going into the seventh season of owning and operating a wedding barn, her own dream wedding venue come to life, Kristy said she still looks back with some surprise.
"If someone could have told us that in seven years, we would be having weddings in our barn, right outside our home, I would have said, 'Oh, there's no way.' But we don't know any different. We had our wedding and then it just kept going," she said.