INDIANAPOLIS — Indiana Farm Bureau members volunteer each year to teach nearly 60,000 students in pre-K through 12th grade about agriculture.
The Agriculture in the Classroom program is facilitated by INFB and coordinated nationwide by the U.S. Department of Agriculture.
"We want them to understand where and how their food is grown," said Isabella Chism, second vice president at INFB.
"They are going to be our next community leaders and our next electorate. We want them to understand agriculture and its value in their daily life."
The program includes in-class lessons, hands-on activities, educational events, on-farm experiences and field trips.
This year's INFB Book of the Year — "I Love Strawberries!" — includes lesson plans to supplement the book. Students can make strawberry jam or do a science experiment to learn about strawberry DNA.
The lessons and materials are free and created to easily integrate into the school's curriculum.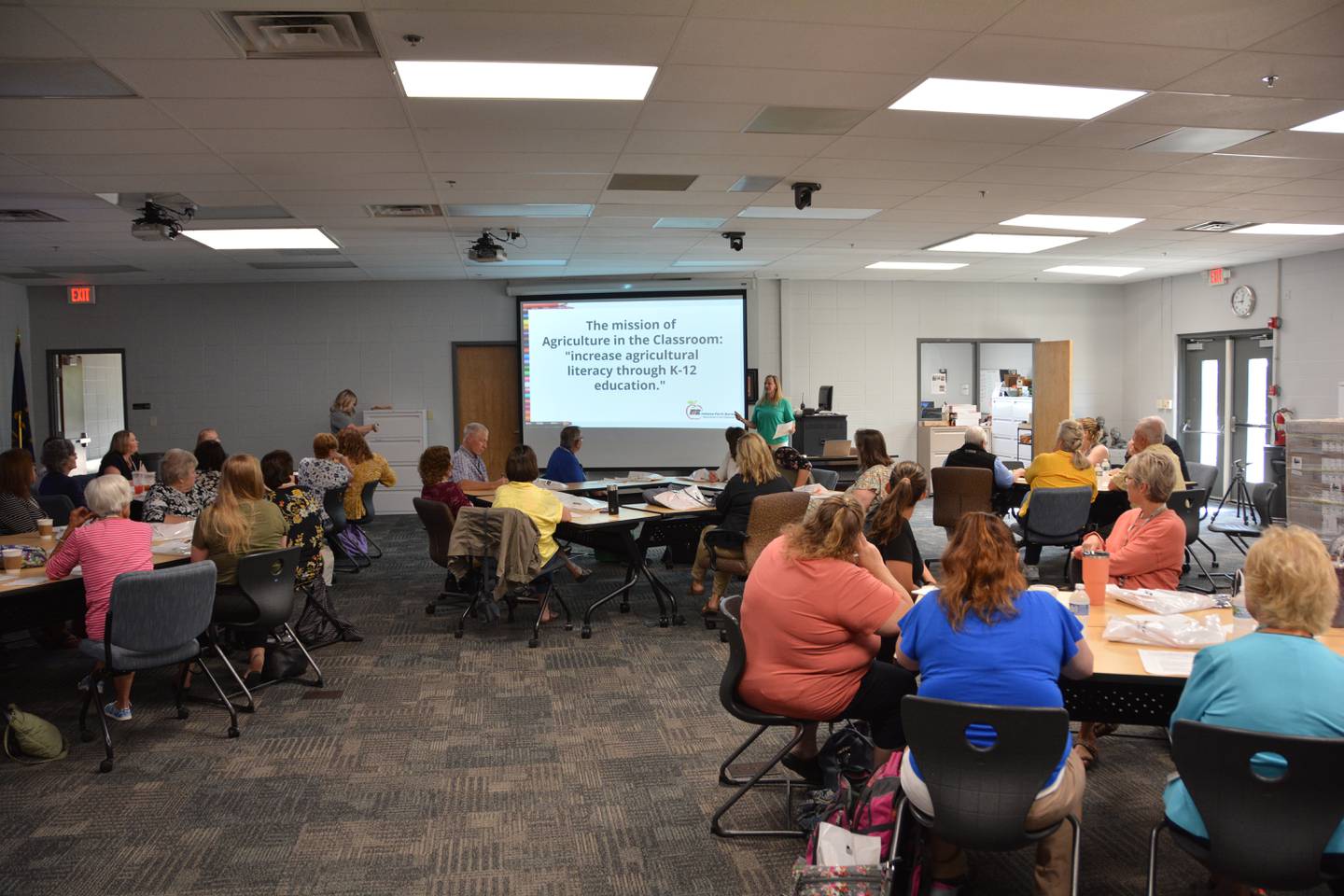 Summer Workshops
This summer there are two workshops that volunteers and teachers can attend. To register, go to www.infarmbureau.org/events.
1. South Central Workshop
When: 9 a.m. to 4 p.m. June 8
Where: Johnson County Fairgrounds, 250 Fairground St., Franklin, Ind.
Cost: $30 per person
Attendees will kick off the day with a visit to Ozark Fisheries for a tour of the hatchery and spawning facilities, production and a hands-on lesson in aquaculture.
After returning to the fairgrounds and lunch, expert presenters will share classroom activities on photosynthesis, pollinators and plant genetics.
They will even assemble a small-scale aquaculture system for students to investigate the basic needs of plants and fish and discover how plants, animals and bacteria interact in a symbiotic system.
This agenda is best suited for elementary, middle school and high school educators, along with AITC volunteers or extension educators seeking innovative lessons for students of all ages.
2. North Central Workshop
When: 9 a.m. to 3 p.m. June 15
Where: Beck's Hybrids, 6767 E. 276th St., Atlanta, Ind.
Cost: $30 per person (includes lunch and all materials)
This workshop features an exclusive tour of Beck's world-class research facility and state-of-the-art soybean processing tower.
You'll also hear from industry leaders about precision ag, practical farm research, data management and cutting-edge technology, along with ag careers.
This agenda is best suited for middle school and high school educators with a focus on agriculture, science, technology, engineering and math education.
College and high school students — age 16 and above — pursuing a career in biotechnology, plant genetics, agriculture research and other science paths also are welcome to attend.
As an added bonus, licensed educators will earn Professional Growth Plan points for each session they attend.
Looking Ahead
In the future, Chism hopes the Ag in the Classroom program remains strong in Indiana.
"Indiana has one of the strongest volunteer bases," she said. "I hope that will continue and that schools remain open to us coming into the classroom.
"It gives teachers a little bit of a break, because they aren't leading the lesson. But we leave them with resources to use later on. The children also get exposed to someone different, which is exciting and energizes them for the rest of the day."
For more information on Ag in the Classroom, go to www.infarmbureau.org/INFBAgEd.