INDIANAPOLIS — Agriscience projects focused on fish, pest control and meat consumption resulted in national awards for Illinois FFA members during the 95th National FFA Convention and Expo, held in Indianapolis.
Greyson Applebee and Gehrig Bunselmeyer worked together on a project that involved raising fish.
"When we went to national convention our freshman year, we toured a fish facility and we wanted to start a fish farm for our chapter," Bunselmeyer said. "So, we decided to form a small business and then we started to run into problems with pH and nitrates."
The Maroa-Forsyth FFA members measured both nitrates and pH in the catfish facility for their winning Agriscience project.
"We worked with the filtration system to effectively take the nitrates away," Bunselmeyer said.
"Our main goal is to try to sell the fish to community members to stock ponds and we also want to breed fish so we don't have to keep buying new batches of fish each year," Applebee said. "And we have plans to harvest the fish to have a community fish fry."
The sophomore FFA members were quite surprised to be selected national Agriscience winners.
"We were in shock and nobody expected us to win," Applebee said. "Nobody has done an Agriscience project in our chapter, so we didn't think this was something that could happen."
As Applebee walked through the Agriscience Fair at the convention, he saw projects that he thought were better than the one the team completed.
"We're not the most knowledgeable 100% of the time on our project, but we work problems out when they come up," he said. "That's something really great about us and we're going to work together again and neither of us would want it any other way."
Winning a national award has sparked interest of more members in the chapter.
"Now we've got other kids interested in doing a project," said Cassie Crouch, adviser of the Maroa-Forsyth chapter. "After 18 years I still don't do things the same way and they are getting more kids excited, so hopefully that will grow into some other things."
"As soon as they called our names on stage and we saw 65,000 people clapping and screaming for us, my heart dropped," Applebee said. "It was so exciting because both of us worked so hard this past year and our adviser worked has worked just as hard trying to keep us calm, cool and collected."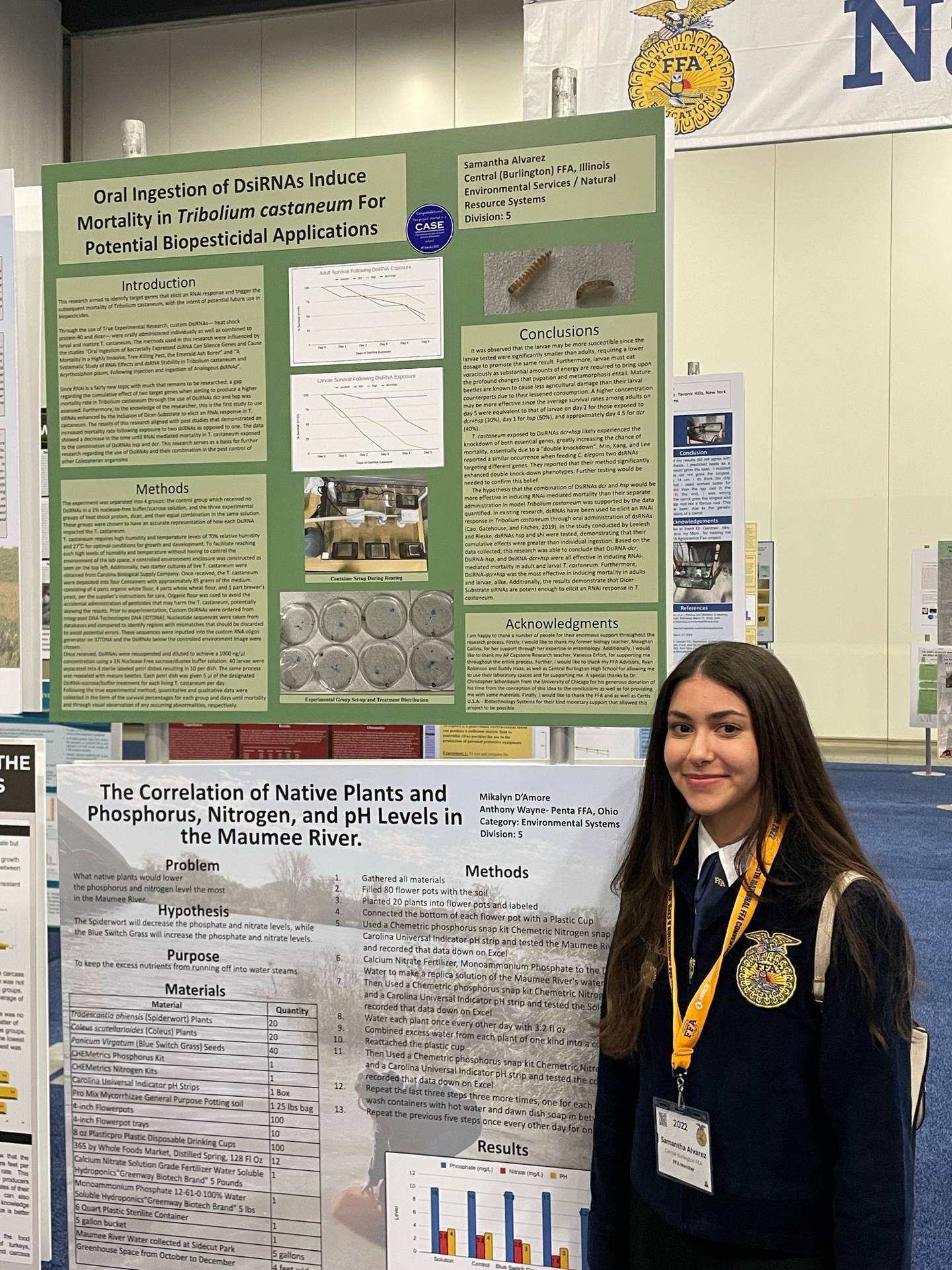 Samantha Alvarez got the idea for her Agriscience project after taking a summer class at the University of Chicago.
"I learned about different biological techniques in that class and that in Florida they released genetically modified mosquitoes to control the population," the Central Burlington FFA member said. "I thought that was really interesting, so I wanted to try to control emerald ash borer beetles."
Since Alvarez worked on her project during the winter, she used red flour beetles.
"Genetically modifying the beetle would be difficult with my skill set, so instead I just fed them the treatments," the high school senior said. "I fed DsiRNAs that stopped the production of proteins that were essential to survival and ultimately killed the beetles."
Winning the national honor, Alvarez said, was a great feeling.
"I was in shock that all the hard work I'd done had paid off," she said. "I still haven't really processed it yet."
Alvarez is currently applying to colleges, including the University of Chicago.
"That would be by dream school and I would like to continue my research there," said the FFA member, who is advised by Ryan Robinson. "I'd like to become a researcher and I want to do genetic research or genetic engineering."
Working in the genetics field has been a goal for Alvarez since she was in eighth grade.
"It's been a passion of mine for a while now," she said. "But definitely doing this and how much I loved this process encouraged me to continue on this path."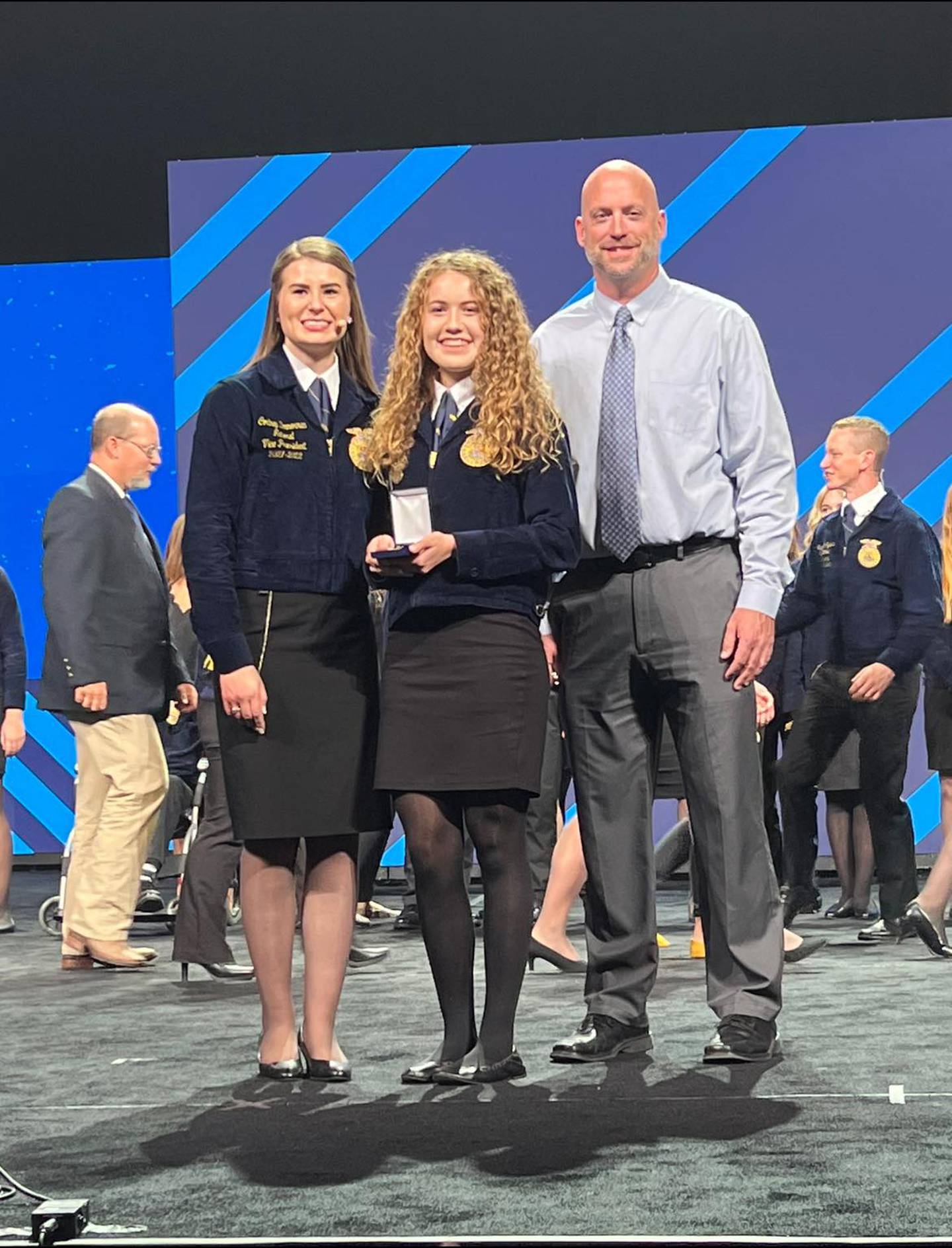 "It was super exciting," said Olivia Shike, about winning a national Agriscience award. "When they called my name, it was an honor and it feels really good when you put in all the work."
The Unity FFA member's project focused on the meat preferences of Generation Z, which includes people from age 10 to 22 in 2022.
"I wanted to focus on this age of people because I'm a member of Generation Z," Shike said. "I was curious because when we think about the future of the agricultural industry, Generation Z is going to be making decisions for many years to come."
For her survey, Shike asked about 11 food values such as price, safety, appearance, taste and nutritional content.
"I also had seven questions about the influence of food labels on consumer decisions," she said. "Two additional questions asked people to rank food values and the food labels from least to most important."
Shike had a lot of information to sort through after 1,186 people completed her survey.
"Humanely raised was 20% more important food label than any other food label they had to select from," the high school junior reported. "That makes sense because Generation Z is a social media generation and we see a lot of importance on animal welfare."
For food values, the most important were safety, price and taste.
"We may care more about the environment or animal welfare, but we are still tethered to price and if it doesn't taste good, we're not going to buy it," said Shike, who is advised by Rich McCabe.
"We hear about increased vegetarianism and veganism with Generation Z, but in my study the rate of vegetarianism and veganism was 2.34%, which was the same rate for millennials," Shike said. "In my study, 93% of people said they consume meat often or fairly often."
Shike plans to keep doing research projects since the ones she has completed have been a lot of fun.
"I've gained skills I would not have without the Agriscience Fair," she said. "I love getting results and being able to turn numbers into meaning."
Looking at the Agriscience displays at convention was enjoyable for Shike.
"It was pretty cool looking at them and thinking these are the people I'm probably going to be spending future time with as co-workers," she said.