SPRINGFIELD, Ill. — The story of dairy, foods and farmers has been told by the St. Louis District Dairy Council for the past nine decades.
"Since 1932, council programs have included milk demonstrations, butter churning, signage on public transportation vehicles and celebrity cow milking contests," said Monica Nyman, senior nutrition educator for the council during the 12th annual St. Louis District Dairy Council "Let's Talk Dairy!" Workshop.
"Though the milking demonstrations of the early 1940s have given way to in-person presentations and interactive displays, our organization remains committed to dairy promotion that is real, relative and responsive," Nyman said.
"Today we promote the healthfulness of dairy in an engaging and personal way," the registered dietitian said. "We share the latest research by partnering with schools and community organizations and connecting with consumers via traditional and social media."
With this boots-on-the-ground approach to dairy promotion, the council covers 131 counties in central and southern Illinois and central and eastern Missouri.
"We work with educators, health professionals, media and consumers and we are supported and funded by dairy farmers," Nyman said.
She talked about several programs the council does with educators.
"With our Dollars for Dairy program, we go to schools and meet with food-service directors to talk about the funds that are available for cafeterias, for projects like smoothies, panini makers or grab-and-go carts," she said.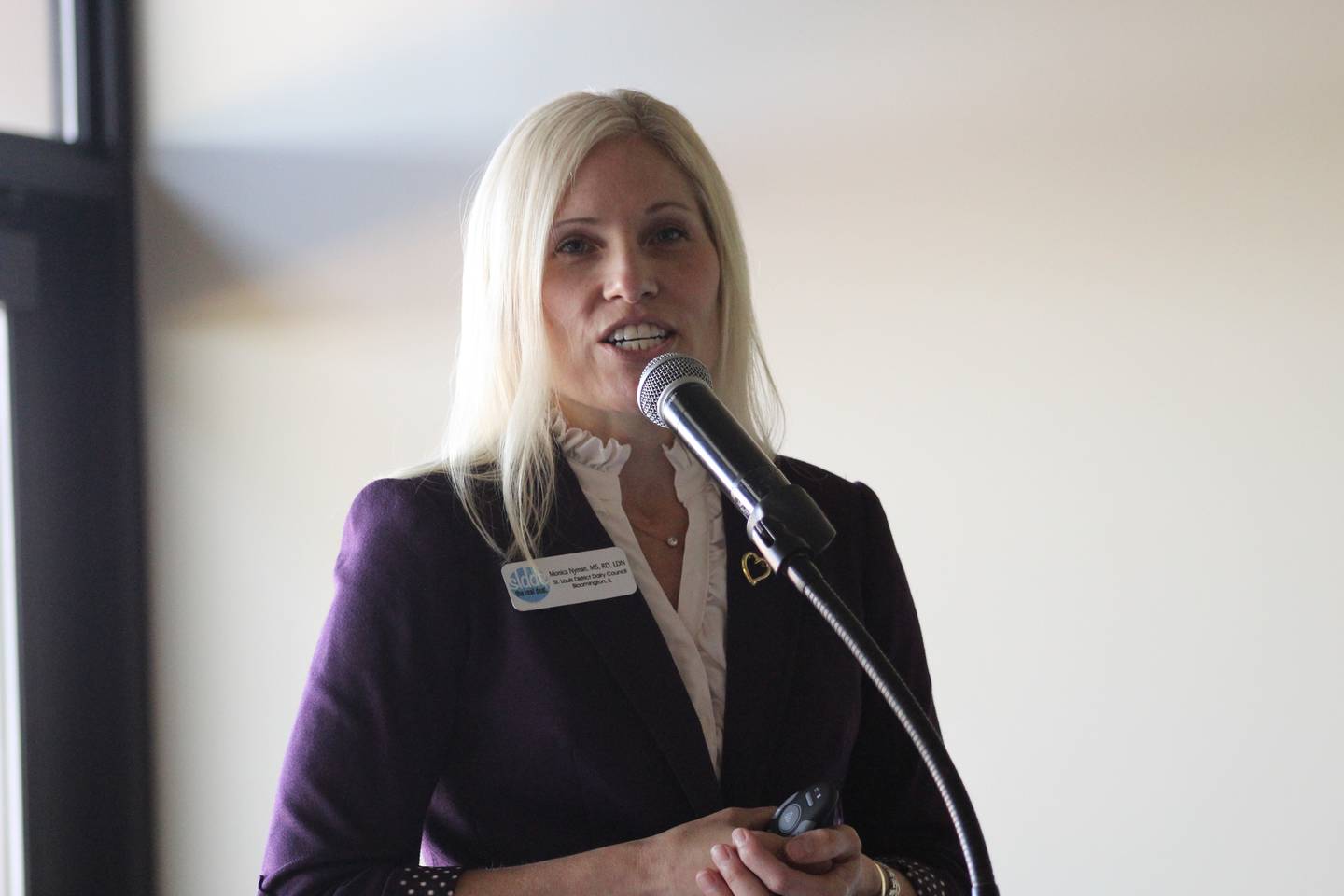 The council educators work with family consumer science teachers to do samplings and cooking demonstrations.
"We have a reimbursement program for high school teachers who purchase dairy products," Nyman said. "I became interested in nutrition from my high school cooking class."
"We've always worked with high school coaches spreading the message that chocolate milk is a recovery beverage," she said. "This year, we're working with eight college athletic teams to talk to them about healthy nutrition and how dairy has so many important nutrients to keep them going."
The Adopt a Calf program is the largest elementary program for the council.
"We have almost 2,000 teachers participating this year," Nyman said. "It's a classroom pet without the mess."
Kids learn about the farm where the calf lives and the program includes a contest.
"At the end of the school year, the winning classrooms go to the farm for a tour," Nyman said.
The dairy council works with health departments to develop resources for them to use in client education.
"A couple of weeks ago we hosted our annual fall farm tour for future health professionals," Nyman said. "The farmer teaches them about what he does every day and most of these students have never been on a dairy farm before, so it gives them a totally different perspective."
During both June Dairy Month and July Ice Cream Month, the council educators visit radio stations and newspaper offices.
"We honor our dairy farmers for their hard work," Nyman said. "And we help our dairy farmers anytime they need support to do a school event, a farm tour or when they need someone to do a presentation."
For more information about the St. Louis District Dairy Council, go to www.stldairycouncil.org or call 314-835-9668.