FLANAGAN, Ill. — Surrounded by corn and soybean fields, this 50-acre plot of land complete with a school, dormitory, gymnasium, barn and other outbuildings seems a bit out of place.
However, the importance of this rural Livingston County location to families stretches far beyond this small corner of the world, and it's where thousands of children have called home for 126 years.
The Salem4youth Ranch, 15161 N. 400 East Road, Flanagan, is a faith-based residential campus setting where 12- to 17-year-old boys are enrolled in classroom and vocational education.
The ranch has an on-campus, computer-based classroom. The students are required to attend school five days a week year-round.
When a student arrives, his most current transcripts are evaluated, and he is placed in the appropriate online classes.
Salem4youth Ranch is a home-school program in a classroom setting where all credits earned are able to be transferred back to the student's sending school. Students also have the ability to graduate from the on-campus high school.
Their high school diploma, like any public or private school, allows them to continue their education in college. Most of the students arrive on the campus behind in their schooling and leave at or above grade level.
Vocational classes currently include woodshop, welding, equine, photography and practical electrical and building maintenance.
The vocational program is a daily part of each student's school day. Each student's day is divided between academic and vocational.
The ranch also includes a soccer field, apiary, Frisbee golf course, a vegetable garden, fish-stocked pond and pen for working with horses.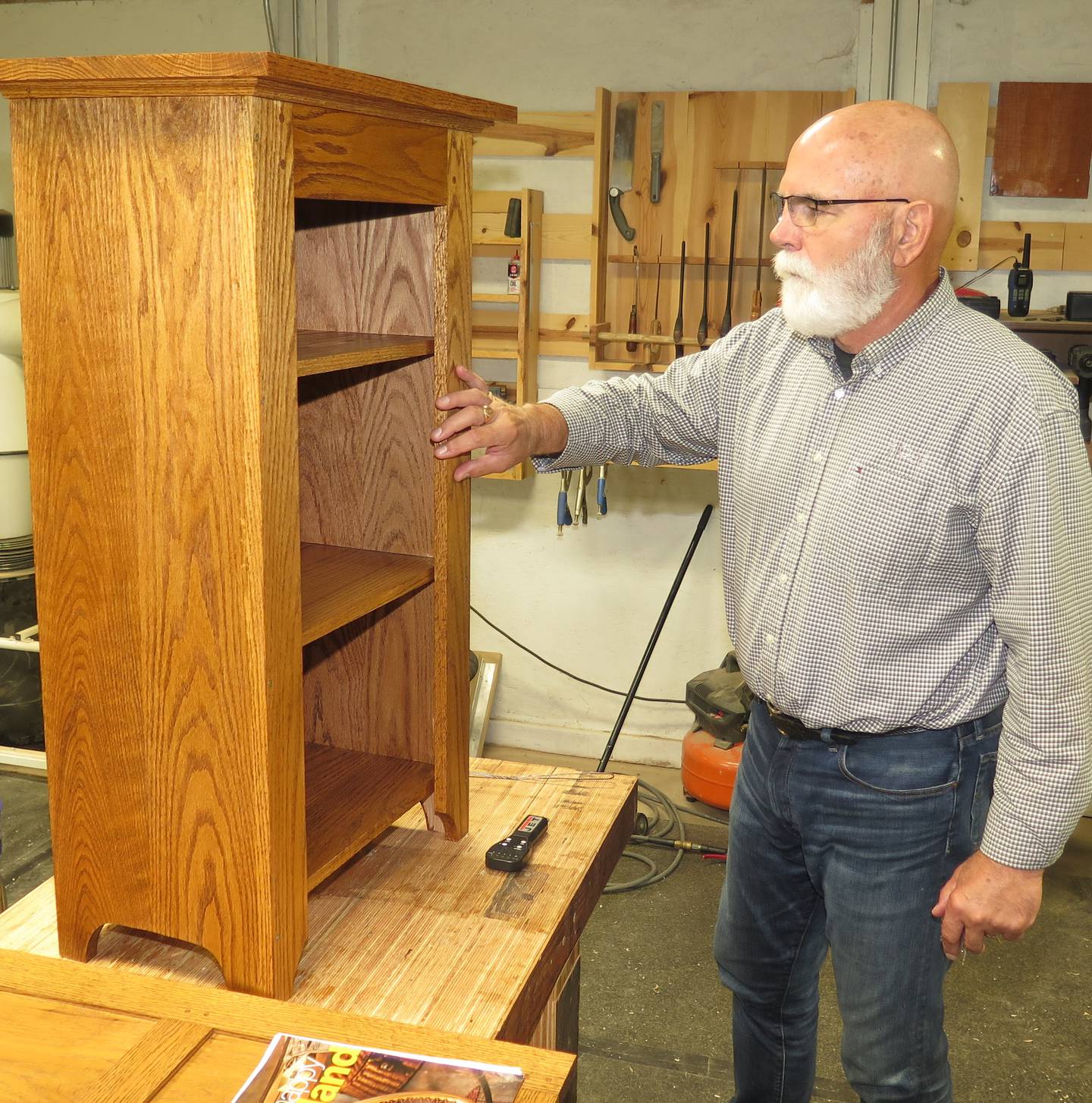 As the Salem4youth Ranch staff prepares for its largest fundraiser of the year, an auction beginning at 8:30 a.m. on Saturday, Aug. 27, with items made by students, staff and others, Steve McNair, director of development, led AgriNews on a tour of the facilities and gave some insight into this important program.
What are the criteria for enrollment and what is that process?
McNair: Generally, parents are having trouble with their son, be it the son's issue or the parents' issue. It can be either way. For the majority of our students, the parents find us online, but there are referrals.
We've had some students come up from Kentucky and some of them came from the same church or someone in that church or a church in general might be familiar with the ministry or had a son come here and then they have a friend or someone else whose son is struggling, and they do a referral.
Our director will get phone calls and one of the themes in those calls is, "I don't want to lose my son," because they've tried a variety of things and they're kind of in their last-ditch effort to try and help them.
Is enrollment limited to students in central Illinois?
McNair: No, currently we have two boys here from California, a student from Alabama, one from Indiana, and we've also had them from Kentucky, Texas, Wisconsin and New York. So, it's more than just central Illinois.
What is your enrollment and is there a maximum?
McNair: Our enrollment is 12 and that's based on staffing and based on finances. We're completely faith-based. We take no state or federal money. So, we want to live within what we have.
If for some reason a foundation laid a big grant upon us or something, we have the facility to have more students, but right now an enrollment of 12 seems to be our sweet spot. So, as a student leaves, we have another student queued up to come.
How is the program funded?
McNair: It's based on donations and fundraisers. We have a few foundations that help support the work, too, but a lot of it is just monthly giving on the part of individuals and so forth.
We do charge tuition to the parents, but it doesn't even come close to the cost of having a student here. But unless a parent is paying something and has some skin in the game that way, they won't commit to some of the other things that we want them to adhere to while their son is here.
When I first started in 2012, they didn't say it exactly this way, but it was essentially this way, "Here's my son, fix him,' and mom and dad weren't on the hook for doing the work for them personally. That's changed and for a student to be accepted, parents have to go to counseling, as well.
If they will not, then we will not accept their son. We've found that makes for a better transition home and also the boy sees mom and dad having to do some work, too, which is helpful.
What's your goal for these students when they leave the ranch?
McNair: Our goal is family reconciliation and restoration. I tell the boys a lot of times that this is an opportunity for you to hit the reset button. Yes, you made some difficult decisions and that sort of thing.
They have no electronics, no phones, no internet that's not closely monitored, and all of those distractions. Some of the boys were maybe using marijuana when they were home or Juuling. All of that's gone and so they have a chance to hit the restart button, so restoration and reconciliation with their parents.
Because of who we are, we do all of that in the context of faith-based. We believe as a staff that true reconciliation is only through Christ.
A student does not have to have a spiritual life when he leaves or in order to graduate, but he's certainly going to be exposed to Christian principles and a Christian way of dealing with things and then he's going to decide whether that's going to be part of his life going forward or not.
The same with the parents because some parents will come who have had some sort of faith background and maybe they've gone away from it or whatever, and some haven't, but they're exposed to the principles that are found in scripture that have some amazing life lessons.
Our goal is not to shove Christianity and faith down their throats but to live it out before them.
Counseling the youngsters is also a vital part of the program.
McNair: Parents have said to us they may be doing counseling at home and, say, had a blowup on Monday, but the family counseling wasn't until Friday. So, they go to counseling and by then say, 'What was that blowup about?'
Whereas here, if a student is struggling, we have 20-some counselors, people who care about them. Let's go take a walk. Let's talk about that and they can deal with it right then and work through it right then. So, that's another plus.
On a campus where there's a lot of green space, they can weld, they can use power tools for woodworking and ride horses. It's a guy place. A lot of times in our world, they don't necessarily have a lot of those opportunities, and they're not tethered to a game controller.
We have a pond stocked with fish and we have a deck with a bench, so the boys can fish if they want or they can go out there if they're struggling and sit and talk to a staff member. We try and create an environment that's peaceful.
Focusing both on vocational and classroom learning provides multiple opportunities, as some may further their education and others can go into a trade.
McNair: Yes, and we promote the trades. We want these boys to be successful. We have a student who is going to be turning 18 soon and I have never met a kid that works as hard as this young man. He's not college material, but whoever hires this kid is going to get a diamond in the rough.
One of the things we're trying to do is when we see a young man like this who has such great potential and would be an amazing employee, is try to help him find a spot where he can plug in, be trained and have a vocation.
He's from Arizona and open to sticking around central Illinois. Prior to him coming to the ranch, his life was pretty rough. He was into some things that weren't very healthy, and so to be away from that and kind of hit that restart button is a good thing.
What is the history of this location?
McNair: Salem was founded in 1896. A couple, Daniel and Mary King, were childless and donated their 100-acre farm to start an orphanage. Over the years, my understanding of history is they had as many as 90 children here at any one time.
Initially it was infants through 17 or 18 year olds, and for a variety of reasons the children were placed here. Depending on the status of the parents, several of the students over the years were adopted by families.
Today it has evolved to where we're just serving teenage boys now. So, it went from the whole gamut down to just boys.
Get More Info
For more information about Salem4youth Ranch, visit https://www.salem4youth.com or call 815-796-4561.