What can you do to get your kids to eat more nutritious foods, get better grades in school and have a larger vocabulary? The answer may be easier than you think. Start by enjoying family meals on a regular basis. While family dinners may seem like a burdensome chore at the end of a tiring day, the benefits of time together cannot be measured by calories alone. Family meals offer a unique opportunity to teach children valuable lessons and to influence their health positively.
Pulling together a nutritious meal does not have to be time-consuming or hard. Parents can look to dairy foods, such as milk, cheese and yogurt to pack a nutritional punch and to add flavor to a meal. These are easy foods to add because they complement many other foods, such as vegetables and fruit.
In today's world, work schedules, extracurricular activities and other interests may put family meals on the back burner. Fast food and drive-through meals have become standard dinners for many busy families. However, making shared meals a priority is important in this fast-paced society. Many families are starved for time together, and a family dinner or breakfast can allow them to reconnect, leave behind individual pursuits and really be present. Family meals provide a time to relax, recharge, laugh, tell stories and catch up on events. Plus, family mealtimes are a great opportunity to gain crucial knowledge and nutrition skills.
Better nutrition is a key benefit of enjoying meals as a family. Research shows family meals influence and improve food choices. Dairy foods, for example, contain calcium, protein and an array of essential nutrients, and are easily incorporated into breakfast, lunch or dinner, ensuring a nutrition-packed meal to serve to your family. Grate and sprinkle a new flavor of cheese over vegetables or stir yogurt into a fruit dip. These simple options expose children to new foods and help ensure they are getting the recommended three servings of dairy every day.
Family meals foster children's healthy growth and development, both physically and emotionally. Studies show that with regular family meals, kids are less likely to engage in unhealthy and risky behaviors, such as smoking. Parents and health professionals also note improved communication as an additional benefit. Shared family meals may also improve vocabulary and social skills, self-esteem and grade-point averages.
Making family meals a priority does not require a professional chef in the household. Focusing more on being together rather than making an elaborate meal is a good start. Additional steps include increasing the number of family meals by one meal each week. Weekly menu plans and grocery lists allow everyone to be involved in the plan. Encouraging children to make suggestions, help prepare food or set the table can also help. Pouring milk into a measuring cup, discussing why cheese melts on a casserole, tasting different yogurt textures, or explaining that milk is a local food can help build skills and knowledge. Plus, they're great ways to get kids excited about dairy. Last, but not least, turn off all devices including televisions, tablets and phones, and enjoy time as a family. It's worth a try, as sharing more meals together could mean large rewards for the family.
For additional information on dairy's place in family meals, call St. Louis District Dairy Council at 309-681-4629, or email mnyman@stldairycouncil.org. For additional easy and tasty recipes, check us out on Facebook at STLDairyCouncil.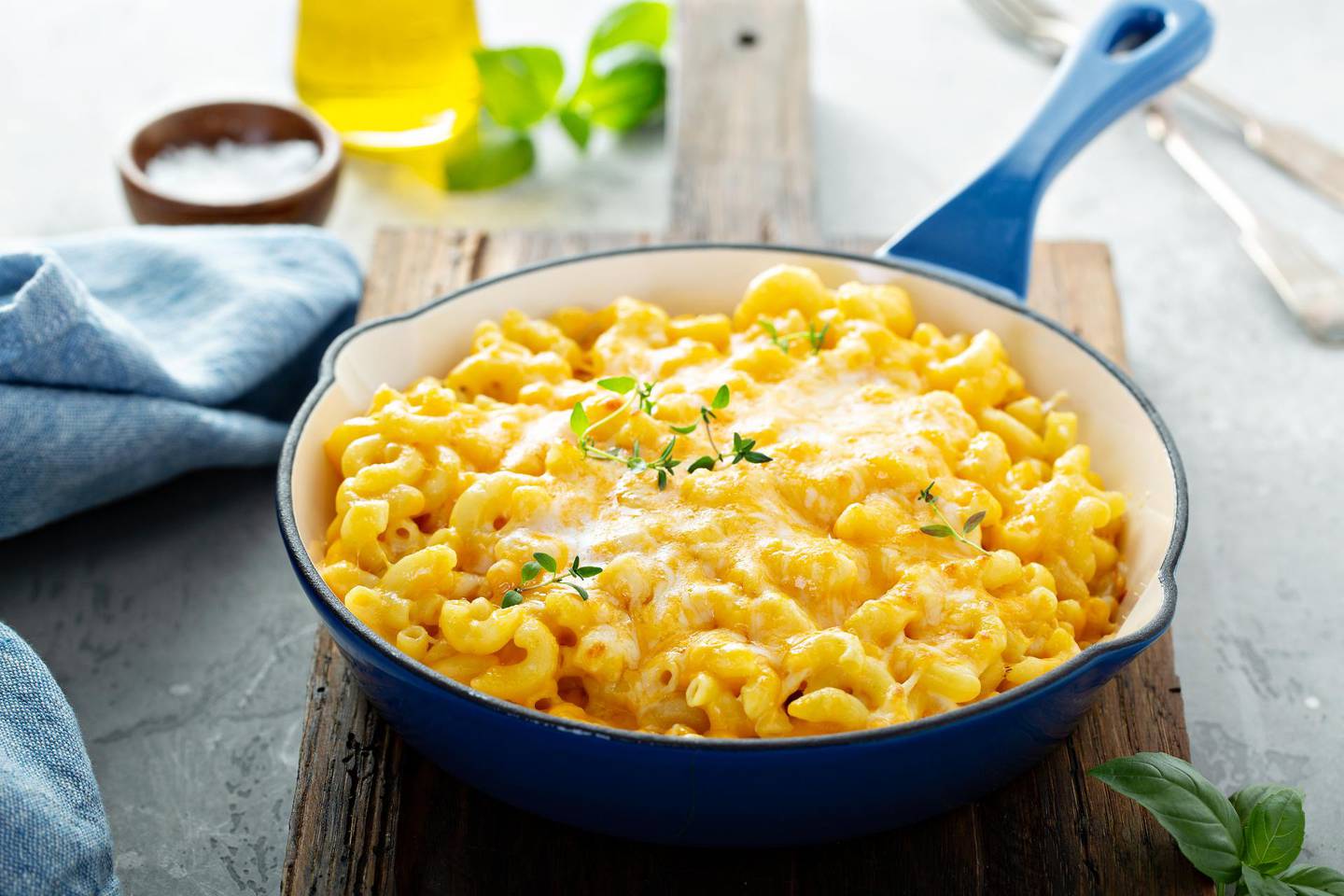 Tuscan Chicken Mac And Cheese
Family meals don't have to be difficult or time-consuming. Try Tuscan Chicken Mac and Cheese, a one-pan dinner made on the stovetop in less than 30 minutes. The recipe requires minimal work and simple ingredients, and can help ensure your family is getting great nutrition from dairy, protein, grains and vegetables.
Servings: 6
Ingredients
4 boneless skinless chicken thigh filets
Salt and pepper, to season
1/2 teaspoon paprika
1/2 teaspoon dried parsley
1 tablespoon oil, divided
2 tablespoons butter
1 small yellow onion, chopped
6 cloves garlic, finely diced
9-ounce jar sun-dried tomato strips in oil (reserve 2 tablespoons of oil and drain the rest)
3 tablespoons flour
2 1/2 cups chicken broth
3 cups milk
2 teaspoons dried Italian herbs
10 ounces elbow macaroni, uncooked
3 cups baby spinach leaves
1 cup fresh grated Parmesan cheese
3/4 cup mozzarella cheese shredded
1/2 cup grated cheese Cheddar or Gruyere
2 tablespoons fresh parsley chopped
Procedure
Season chicken with salt, pepper, paprika, dried parsley and 2 teaspoons of the oil. Heat remaining oil in a large (12-inch) pot or pan over medium-high heat. Add chicken and sear on both sides until golden brown, cooked through and no longer pink in the middle. Transfer chicken to a warm plate, tent with foil and set aside.
To the same pan, add butter, onion and garlic and fry until onion becomes transparent, stirring occasionally (about 2 minutes). Add 1/2 cup of chicken broth to pan and allow to simmer for 5 minutes, or until liquid reduces down.
Add sun-dried tomatoes with the 2 tablespoons of oil from the jar; cook for 1 to 2 minutes to release as much flavor as possible.
Stir flour into the pan and cook for one minute. Add remaining broth, 2 1/2 cups of the milk, herbs, salt and pepper. Bring mixture to a very low simmer (reduce heat, if needed).
Add dry macaroni and stir occasionally; bring to a simmer. Reduce heat to medium low and stir regularly for 9 to 10 minutes, or until sauce thickens and macaroni is cooked al dente, tender but still firm. Add spinach and stir until wilted.
Remove pan from stove and quickly stir in all cheeses. Add salt and pepper to taste. If sauce becomes too thick, add remaining 1/2 cup milk in 1/4-cup increments, until reaching desired thickness. Sauce will continue to thicken as it cools.
Slice cooked chicken into strips, add to pan and stir mixture thoroughly. Add any leftover juices from the chicken to the pan. Sprinkle with parsley, and stir through. Serve immediately.