By Chelsea Harbach
Across the Midwest, a handful of states offer an annual crop scouting competition for high school youth. This program started in Iowa over a decade ago and has since spread to Nebraska, Indiana, Minnesota, and Kentucky. In 2021, the competition finally came to Illinois, and I had the privilege of being the coordinator for this program.
Crop scouting competitions test the skills and knowledge of high school teams as they progress through stations covering topics including insects, diseases, weeds, pesticides, and more. The top teams from each state competition are invited to compete against other states at the regional competition.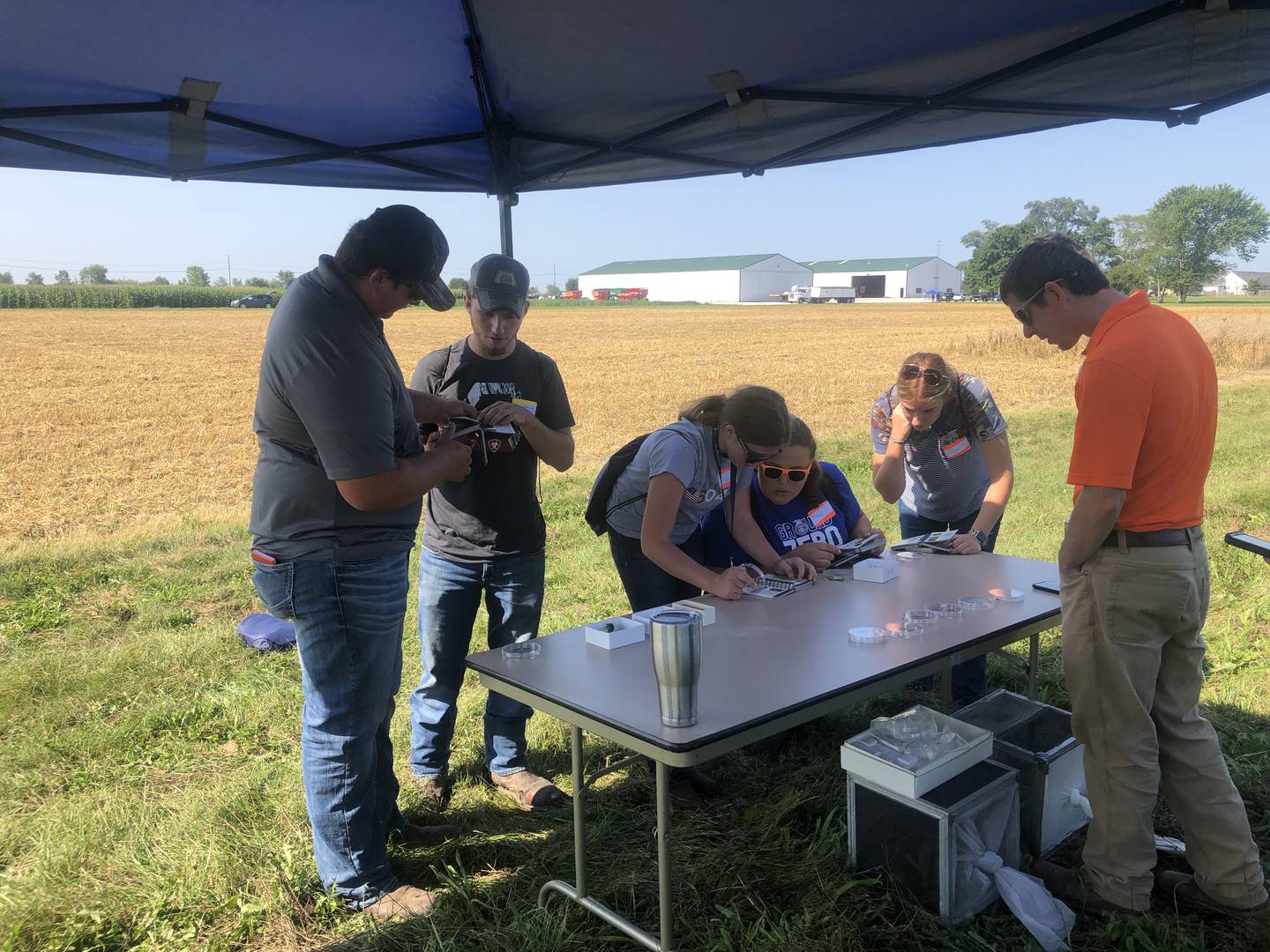 Illinois had two teams sign up to participate in the state's first competition this year. The Dwight Corn Pickers and the Gibson City-Melvin-Sibley FFA showed off their crop scouting skills at the state event on August 4. The two teams converged upon the Crop Sciences Research and Education Center in Savoy for a day full of fun.
The coaches for each team remarked on how great of an opportunity this program is for the students on their teams and look forward to putting together teams for competitions in subsequent years.
The Youth Crop Scouting Competition serves as not only a test of students' knowledge and skills but also a platform to interact with crops experts. For example, students got to speak directly with Dr. Nick Seiter, the University of Illinois field crop entomologist, when they went to the "insects" station. Truly a unique opportunity for kids of this age.
After both teams made it through all nine stations and completed the comprehensive written test, the final results were the Dwight Corn Pickers in first place and the Gibson City-Melvin-Sibley FFA in second. Both teams were awarded a cash prize for their achievements.
The Dwight Corn Pickers participated in the virtual regional Crop Scouting Competition event on Sept. 9, where they faced teams from Iowa, Indiana, Kentucky, and Nebraska. The results from that event were as follows: First place, a tie between La Rue County FFA (Kentucky) and Clayton County Team Number One (Iowa); second place, Clayton County Team Number Two (Iowa); and third place, Heritage Hills FFA (Indiana).
I look forward to planning and coordinating the Illinois Youth Crop Scouting Competition for years to come. And now is the time to start thinking about putting together a team for the 2022 competition. In order to continue growing this program, I need help from folks in the agriculture industry in our state. Please spread the word to kids (grades 8-12), FFA supervisors, agriculture teachers, etc. The continued success of this program hinges on increased involvement throughout the state!
The 2021 Crop Scouting Competition was sponsored by Growmark, Illinois Corn Growers Association, East Central Illinois DeKalb/Asgrow Team, ProHarvest Seeds, Illinois Farm Bureau, TeeJet, and the University of Illinois IPM Center. For sponsorship or participation inquiries for 2022, please get in touch with Chelsea Harbach at harbach2@illinois.edu.
Chelsea Harbach is a University of Illinois Extension educator, commercial agriculture.