KYIV, Ukraine (AP) — Victor Tsvyk harvested 4,800 tons of wheat this month, but after Russia exited a wartime deal that allowed Ukraine to ship grain to the world, he has no idea where his produce will go, or how his beloved farm will survive.
Tsvyk, who normally exported up to 90% of his harvest from the southern port of Odesa, faces a crisis: His yield is 20% higher compared with last year, which would have been a boon in times of peace, but in war, exorbitant logistics costs and Russia's blockage of the ports has made shipping grain too expensive for him.
Tsvyk is one of thousands of Ukrainian farmers facing a similar dilemma.
"It's too painful to talk about," the 67-year-old said when asked how he envisions the future.
Last month, Russia pulled out of the deal that the United Nations and Turkey brokered to provide protection for ships carrying Ukrainian grain through the Black Sea.
Moscow has since stepped up attacks on Ukrainian ports and grain infrastructure while Ukraine has hit one of Russia's own ports, leading wheat and corn prices to zigzag on global markets.
While countries worldwide press for a restoration of the grain deal and fighting intensifies in the Black Sea, Ukraine's farmers are left wondering how they will stay in business and provide the food that is critical to people in developing nations struggling with hunger.
Tsvyk doesn't know what he will do with his harvest or how he will keep paying his 77 workers.
"What could I feel in this situation? It is a great sorrow for everyone," he said.
His vast farm in Shurivka, 75 miles from Kyiv, produces not only wheat, but also fine goat's cheeses and juices.
Goats munch on hay, and workers toil around the clock, turning milk into cheese, kefir and yogurt drinks that are bottled and sent off to be sold across Ukraine.
While four of Tsvyk's employees have left to join the fight, the ones that remain have harvested and stored his wheat and are now seeding his many acres of land, preparing for the next season.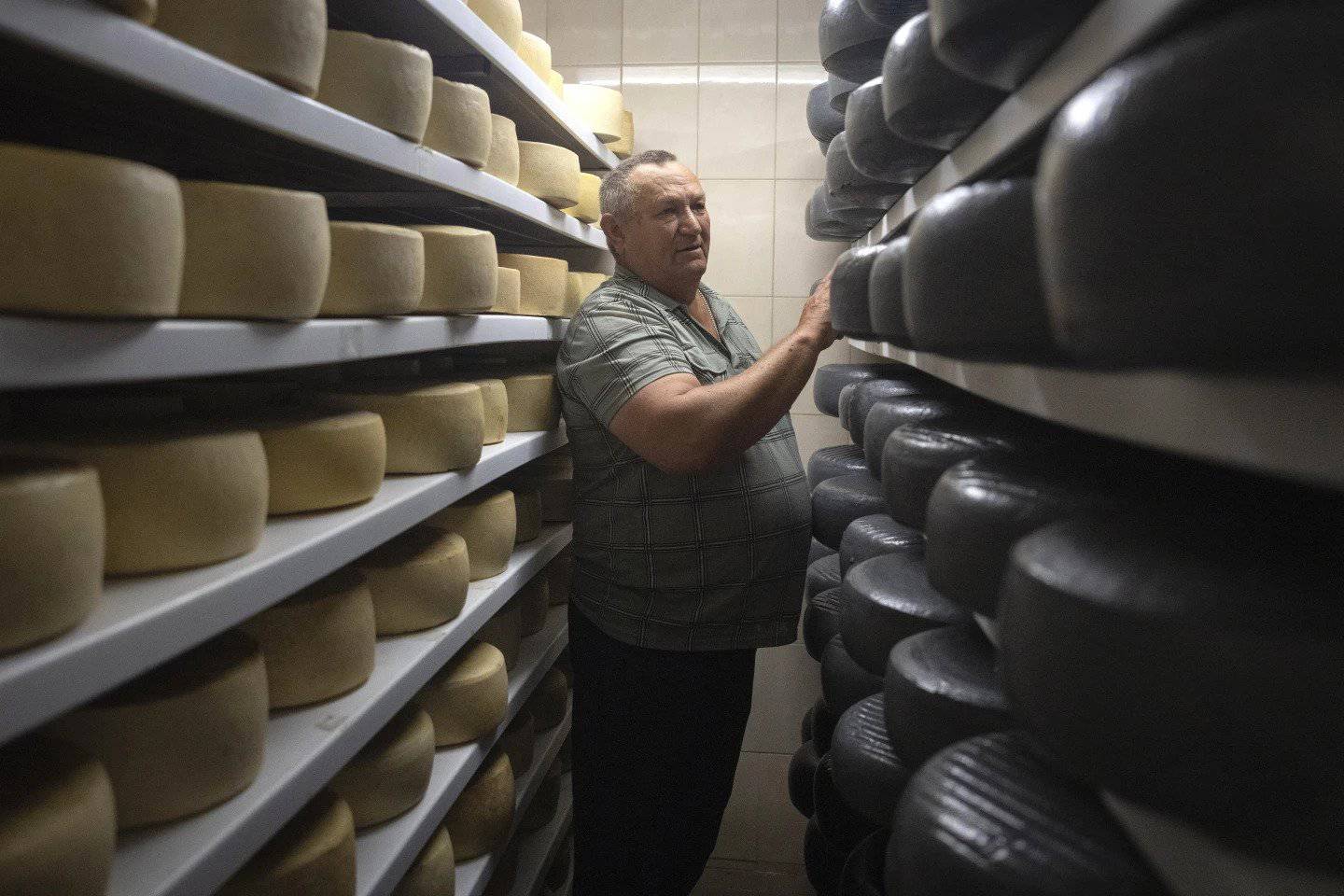 The tinge of uncertainty hangs heavy. Grain is the farm's main source of income, and the now-blocked Odesa port was the key gateway to trade with the world.
Tsvyk's products went as far as India and poverty-stricken countries in North Africa, he said.
Now, with the only other options being more costly road, rail and river routes through Europe that have stirred pushback from neighboring countries, his grain will likely sit in storage depots, costing him tens of thousands of dollars in losses.
Last year, Tsvyk was left with 1,500 tons of grain he was unable to sell. This year, he is scared he may not be able to sell any.
It means many farmers are simply not planting as much: corn and wheat production in agriculture-dependent Ukraine is down nearly 40% this year from prewar levels, analysts say.
The soaring cost to transport wheat eroded Tsvyk's income last year. Every step in the supply chain has increased in price because of the risks associated with the war, leading some farmers to turn to other products, such as sunflower oil, to squeeze out some profit.
Oleksandr Sivogorlo, Tsvyk's trusted agronomist, said that profit or no profit, the land can't be neglected.
"There are some limited routes (for export) through the Danube (River), but it's very limited," Sivogorlo said.
Plus, Russia has targeted Ukrainian ports on the Danube, raising uncertainty about their use.
The farm is conducting barter schemes with suppliers, where some of their crop is exchanged for better fertilizer to produce higher-quality wheat next year, Sivogorlo said.
Tsvyk also will produce different products he knows he can sell without incurring exorbitant costs, such as sunflower and rapeseed oil, and lessen his reliance on grain exports.
"We cover our losses with these products," Sivogorlo said. "And what will be with our wheat crops — hard to say at this point, it all depends on export.''
These are strategies Tsvyk has resorted to in times of desperation to keep the farm afloat. But he doesn't expect to make a profit — breaking even is the best he can hope for.
Even that's better than other farmers he knows who are losing money this year.