CHEBANSE, Ill. — After working eight- to 10-hour shifts at their full-time jobs, the Smolkovich brothers converged to do chores at their cattle operation Monday evening, July 10.
John, Joe, Alan and Marko Smolkovich are raising 22 head of Angus this year, having slowly increased the number of cattle over the past several years.
They utilize a combination of ear corn from about 30 acres that's stored in the adjacent crib, shelled corn from the nearby bin and supplemental nutrients.
The ear corn is moved by conveyor from the crib to the feed grinder mixer where it is combined with the pelletized supplement for extra protein.
The finished ground product was then delivered to the feeder. A round bale of hay was also placed in the feedlot.
"Since they're getting bigger, they've been eating a lot more. The last time we ground feed was six days ago on July 4," Alan said.
"The ear corn is ground in with the pelletized supplement and mixed together. We fed them 350 bushels of ear corn today. We still have some corn in the bin leftover from last year and been mixing half and half," shelled and ear corn.
They have built a loyal customer base for their beef production.
"We have customers already in line to purchase their beef, and we always pick up more and there's always people asking us," Alan added.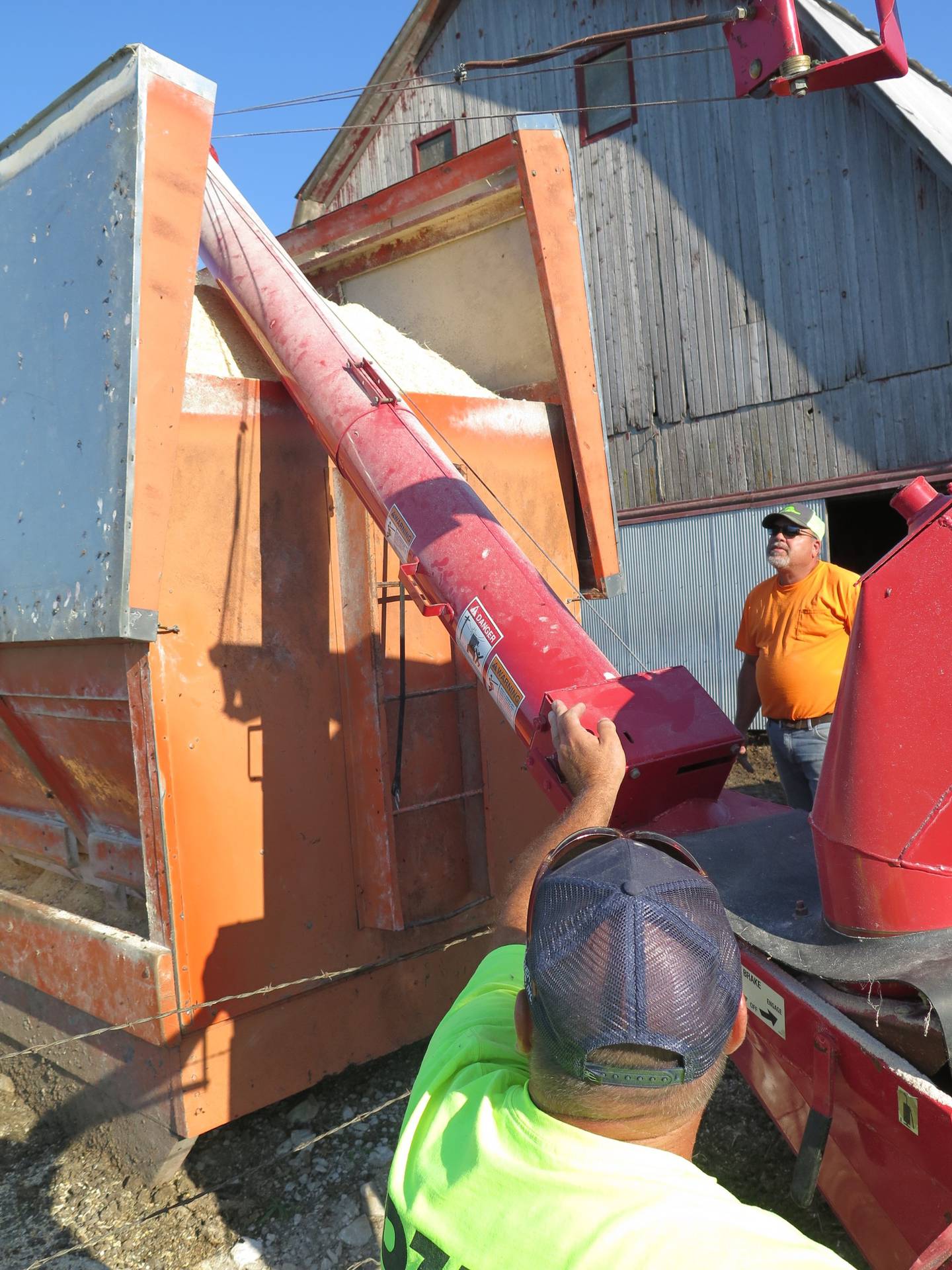 Timely Rains
Since AgriNews last met with the Smolkovich brothers a month ago, they finally received some timely rains.
"The corn was sprayed and we sprayed soybeans two weeks ago on that Tuesday before the rain two days later," Alan said. "We'll be doing a second cutting of hay at the end of this week."
The farm got an inch of rain two days after they finished spraying, followed by an inch each of the next two days.
"This past Saturday we got seven-tenths, so just under 4 inches of rain the past two weeks. There's rain in the forecast for this week, as well," Alan noted.
"Everything has been popping up really nice. It was really dry here early on. We had just got done planting and then didn't receive any rain until two weeks ago. The stands were really uneven and with the rains it just started evening out and now within a couple of weeks it's just starting to tassel."
They haven't applied fungicide yet and are looking at a new way to do it.
"We're going to talk to our cousin, Erin Foltz, and her husband, Caleb Foltz. They have a drone and just started spraying with it this year. They sprayed a neighbor's field this past Sunday and they said it went well," Alan said.