NEW YORK (AP) — Farmers markets gave people something they desperately sought during the pandemic: A place to shop outdoors, and at the same time support smaller, often local businesses.
The markets are now building on that goodwill as the customers that became regulars and the vendors who set up shop in 2021 and 2022 return for the new season. Back in 2020, the markets were deemed nonessential and had been forced to close.
Small vendors ranging from farm stands to dog treat makers say the markets offer them access to customers and a connection to the community.
Taylor Choy, operations manager at Green City Market in Chicago, said the Green City Saturday market used to bring in 5,000 to 10,000 shoppers pre-pandemic. Now that figure is 8,000 to 15,000.
Green City is one of nearly 7,000 farmers markets listed in the U.S. Department of Agriculture local food directory, up from about an estimated 2,000 in 1994, per the Farmers Market Coalition.
Some shoppers shy away from farmers market vendors because prices are typically higher than those at grocery stores due to the labor and small scale involved, even though most farmers markets accept food assistance vouchers.
But the inflation of the past two years has brought about a shift. Prices for some typically cheap staple items in grocery stores rose sharply due to high inflation and various issues.
For instance, egg prices rose partly due to avian flu and toward the end of last year the cost of a dozen had doubled from 12 months earlier. Bread and flour prices rose partly because of the Ukraine crisis.
"The benefit to shopping at a farmers market is that it's directly from the farm and so they're not going to see the same type of supply chain issues (grocery stores have)," Choy said. "In fact, I've seen the cost of eggs at a grocery store increase, but then our price of our eggs at our market stayed the same."
A farmers market can also be a showroom for prospective restaurant clients. Zaid Kurdieh owns Norwich Meadows Farm in Norwich, New York, and is a vendor at the GrowNYC farmers market in Union Square in Manhattan.
He said the most valuable aspect of the market is getting to know the chefs and restaurant owners that scour the market for farm-fresh produce.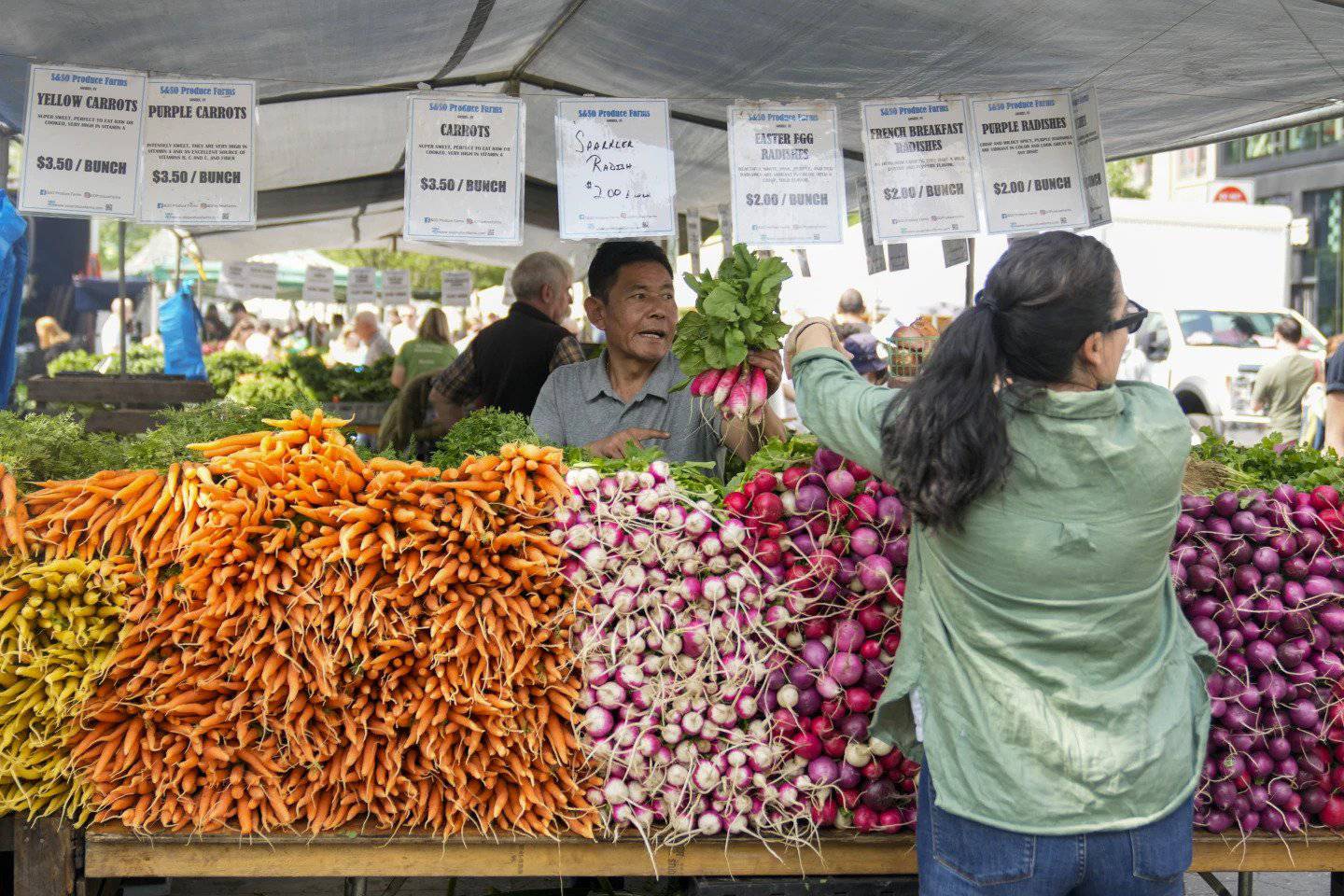 Kurdieh said his farm tries to grow "everything you could possibly grow in our region," which ranges from "asparagus to zucchini and everything in between." Restaurant clients make up about 50% of his business.
"We have a lot of relations with a lot of different people, and that is because of the farmers market," he said. "Without this showcase, if you will, our showroom here, we wouldn't be able to do some of the things that we do."
Other vendors, many offering goods that go beyond traditional farm table stands, have sprouted up since the pandemic, either because their jobs dried up and they needed a new occupation or the pandemic caused them to reassess their priorities.
Kat Levitt, who worked in the food industry, is one of those vendors at Green City Market in Chicago. She worked in marketing for chefs and restaurants until the pandemic hit and the industry basically shut down.
She realized she could use her relationships with farms to make single-ingredient, dehydrated cat and dog treats, everything from "pup prosciutto" and lambs' lungs to dehydrated fruits and vegetables under the name Treats de Cuisine.
Levitt opened a storefront, but also opened a stall at Green City Market this year to grow her customer base. The market is dog-friendly, with up to 900 dogs coming through the market on a single Saturday.
So, her business has been a hit and she's looking to expand her presence from one tent at the market to two. About 40% of her sales come from the market.
"It's helping my company grow even further," she said. "It is tremendously impacting how many more customers I'm reaching and the different neighborhoods I'm reaching now."
That's also true for Tiffany Lewis, who started her cookie company Cookies with Tiffany during the pandemic and has been a vendor at five Seattle-area farmers markets for three years.
"We get in front of a lot of customers that might not have heard about us otherwise," she said. "Customers at farmers markets tend to be there because they want to support local artisans and are willing to pay the price for excellence."
While markets can be a good showcase for vendors, they have their drawbacks too. For one, they're dependent on the weather.
Even though a market may be open "rain or shine," bad weather tends to drive away customers.
"The weather plays a major role in your sales for the day," said Ali Washington, who is market manager for two downtown Atlanta markets. "If it rains, snows, or whatever you can possibly miss a full day's worth of sales."
Washington, who is also a market vendor with her loose-leaf tea company Soul Food Holistic Healing, said there's a physical impact, as well, from setting up and breaking down vendor booths.
"It takes a lot to have a nice display and to do the setup multiple times a week can take a toll on your body over time," she said.
For Mark Luff, who operates organic vegetable farm Flatwater Farms in Buchanan, Michigan, and also sells at Green City Market, the cost and logistics can be problematic too since the market is nearly 100 miles from the farm. He estimates it costs him $600 just to get to the market.
Still, reaching the farmers market crowds is worth the effort, according to Luff. You can test out new products — Luff is selling hops water, a carbonated non-alcoholic drink, for the first time this season — and establish a regular customer base.
"The relationships we have already formed there and the sales trajectory that it has put us on are vital to the business," he said.