INDIANAPOLIS — Gracie Murphy is focused on helping FFA members find their purpose.
Murphy is the eastern region vice president of the National FFA officer team. She is one of six FFA members that were selected for the team during the final day of the 95th National FFA Convention and Expo in Indianapolis.
Murphy's team members include: President Andrew Seibel, Virginia; Secretary Jessica Herr, Pennsylvania; Western Region Vice President Ryan Williamson, Texas; Southern Region Vice President MacKenna Clifton, North Carolina; and Central Region Vice President Karstyn Cantrell, Oklahoma.
"My goal as a national officer is to help members find their value and show them their purpose in life whether that's in the blue jacket, in the agricultural industry or even outside of it," Murphy said.
The process of selecting the national officer team, Murphy said, is quite an experience.
"To be honest, I don't remember my name being called," she said. "I remember hearing Illinois, my friends started shoving me and then I ran up to the stage."
Since the eastern region office is the first of the six to be announced, Murphy had no one to hug on stage.
"I got to stage and realized I just got elected to a national office and I started crying," she said.
"Then seeing all my teammates and how happy they were, I couldn't stop smiling," the Macomb FFA member said. "I'm so full of hope and joy."
However, Murphy said, there was some hurt that went with this moment.
"There were a lot of talented and qualified candidates who were not standing on stage with me," she said. "That was something I really wasn't expecting — how heartbroken I felt for them, but we all have our purpose and those candidates will do amazing things in life, too."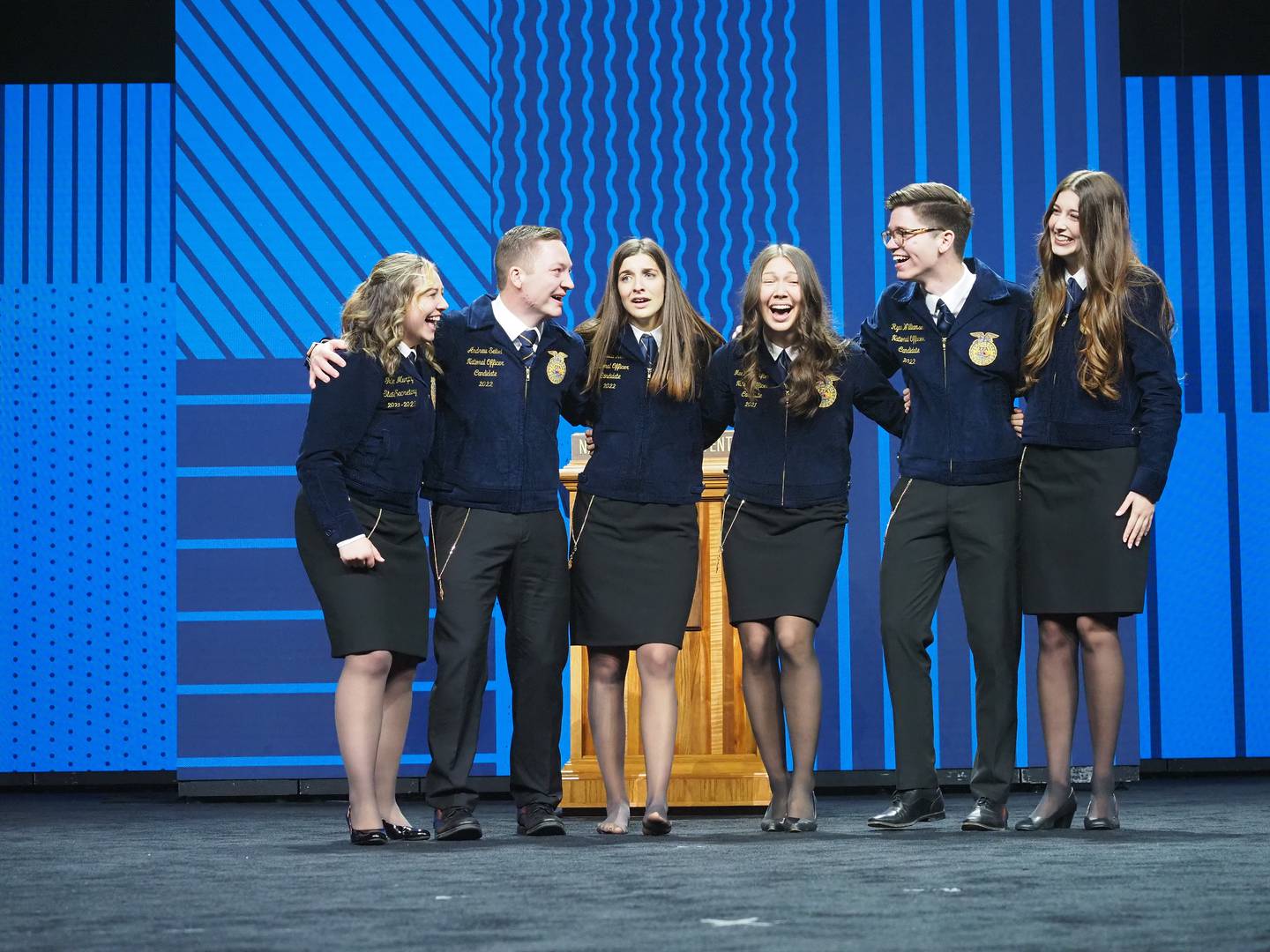 Murphy, who completed her year as the secretary of the Illinois FFA major state officer team in June, decided she would compete for a national officer position after talking with FFA members.
"In March of my state officer year, I was at a conference and I had a conversation with a young lady who was sitting by herself during the career fair," Murphy recalled. "She didn't feel like she really had a place in the organization, but she kept going to stuff because she found a home, but that didn't necessarily mean she found her value in the blue jacket."
That conversation along with a few others, Murphy said, showed that she had a unique opportunity as a national officer to help people find their purpose.
Currently, Murphy is a freshman at Southern Illinois University, where she is studying agricultural education.
"I realized I can help kids at the national level and also I'm hoping the experiences I have this year, I can bring back to my classroom to help students in the future find their purpose," she said.
Not only is this the first time a FFA member from the Macomb chapter has been chosen as a national officer, Murphy was also the first member for the chapter to serve as a state FFA officer.
"When I was a freshman, my chapter was only two years old," said Murphy, who is advised by Wyatt McGrew and Kaity Spangler. "My chapter, the alumni and the community have been so supportive — I did not expect the amount of encouragement I received from them."
Murphy also received help from Miriam Hoffman of Earlville, Illinois, who was the National FFA eastern region vice president in 2020-2021.
"Miriam is incredible and one of my biggest mentors," Murphy said. "She helped me prepare mentally for the process and I can't put into words how grateful I am to have her as a mentor."
For her agricultural education project, Murphy shadowed her FFA teacher and helped teach lessons and prepare lessons.
"That was probably my favorite project," she said. "I also had a small animal care business where I took care of dogs, cats and livestock and I had a food service project where I worked at an ice cream shop."
Following the completion of the National FFA Convention on Oct. 29, the six new national officers spent a few days together to get to know each other and learn about their schedule for the upcoming year.
"I will be wrapping up things at school and we will go to Indianapolis on Dec. 4 to start intensive training," said the daughter of Wendy Murphy and Robert and Andrea Lawrence.
In January, the National FFA officer team will be traveling to South Africa.
"I've never been out of the country, so I'm really excited because I've heard it's incredible there," Murphy said.
"After that, I'll be traveling all over the nation to conventions and camps," she said. "I'm really looking forward to my year as a national officer."