WONDER LAKE, Ill. — Aronia berry plants are growing on five acres in McHenry County, northwest of Chicago.
Rolling Oaks Aronia Ranch was started by Mike and Maureen Scheitz in 2018, when they put 6,000 plants on their hilly farm that features lots of oak trees.
"We did brainstorming for an alternative crop that would have a variety of benefits," said Maureen during a tour of the farm that was part of the Learning Circle for Women Farmland Owners meeting sponsored by The Land Conservancy of McHenry County in partnership with the McHenry-Lake Soil and Water Conservation District and the Savanna Institute.
"Mike came across aronia and we went to a national convention and learned about the amazing health benefits of the berry," Maureen said.
"This ground is not the best for corn and beans because of the rocks," Mike explained. "That's another reason for choosing aronia because they don't care where you plant them."
"There is not a huge market yet for aronia berries in the U.S., but in Poland they drink the juice and use it in cooking all the time," Mike said.
Before establishing the plants, the farmers installed drip irrigation underneath a weed barrier.
"The drip irrigation really helped to get the plants established," Mike said. "This year we've irrigated more than ever and we inject fertilizer, usually twice a year depending on the season."
The plants are three feet apart and there are 14 feet between the rows.
"You want to make sure you have enough space in between rows to get the equipment down the isle," Mike said.
"There are many different cultivars and we planted Viking," he said. "This variety is the heaviest producer with bigger berries."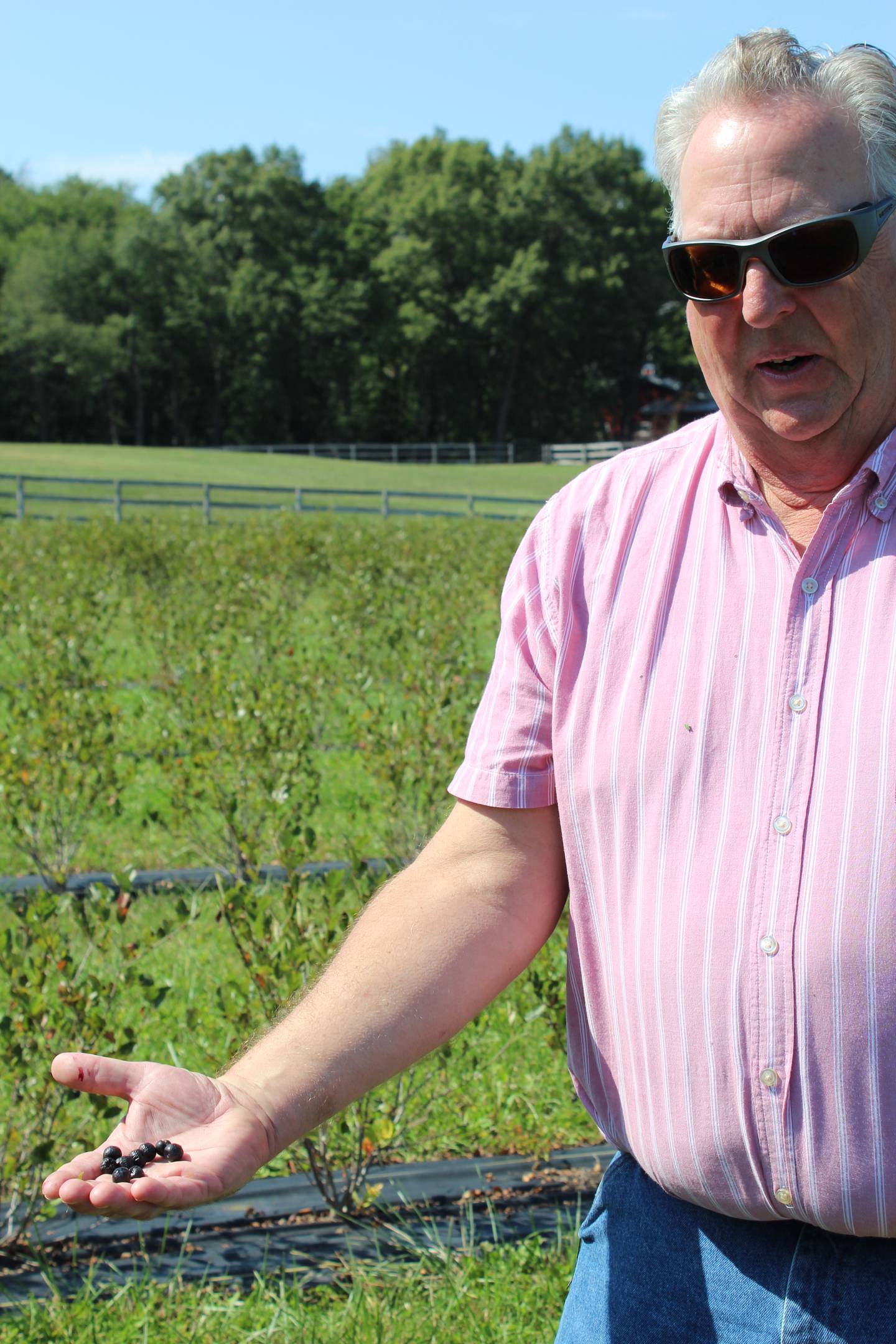 Although the farm is not certified organic, the farmers practice organic methods.
"The plants are naturally resistant to insects, so we don't have to spray insecticides," Mike said.
"Japanese beetles will feed on the foliage, but we don't have corn and beans right around us, so we don't have the pressure from them," he said. "If we have a big infestation, we would spray with an organic insecticide."
It took two years of growth before the plants produced many berries.
"The first year we picked maybe 200 pounds and last year we harvested about 2,000 pounds," Mike said. "This year we had 1,600 pounds of berries and I think our harvest would have been bigger, but the frost killed off some of the flowers."
The berries are typically ready to pick two weeks before Labor Day.
"I test the berries for the Brix content, which is the sugar content," Mike said. "We want to start picking when it's around 18."
For the first years of production, the farmers have been handpicking the berries. However, they plan to switch to mechanical harvesting.
Aronia berries have a tart flavor and provide several health benefits.
"Aronias have cardiovascular, inflammatory and digestive benefits," Maureen said.
"The berries are really tasty after you freeze them because that breaks down the skin and tannins," Mike said. "And when you juice the berries, you want to freeze them first, so they release the juice better."
Initially they used a home juicer to process the berries.
"That didn't work real well. Aronias have natural pectin, which really built up," Mike said. "Now we have a bigger machine that squeezes the berries up against a screen, which really produces a nice juice."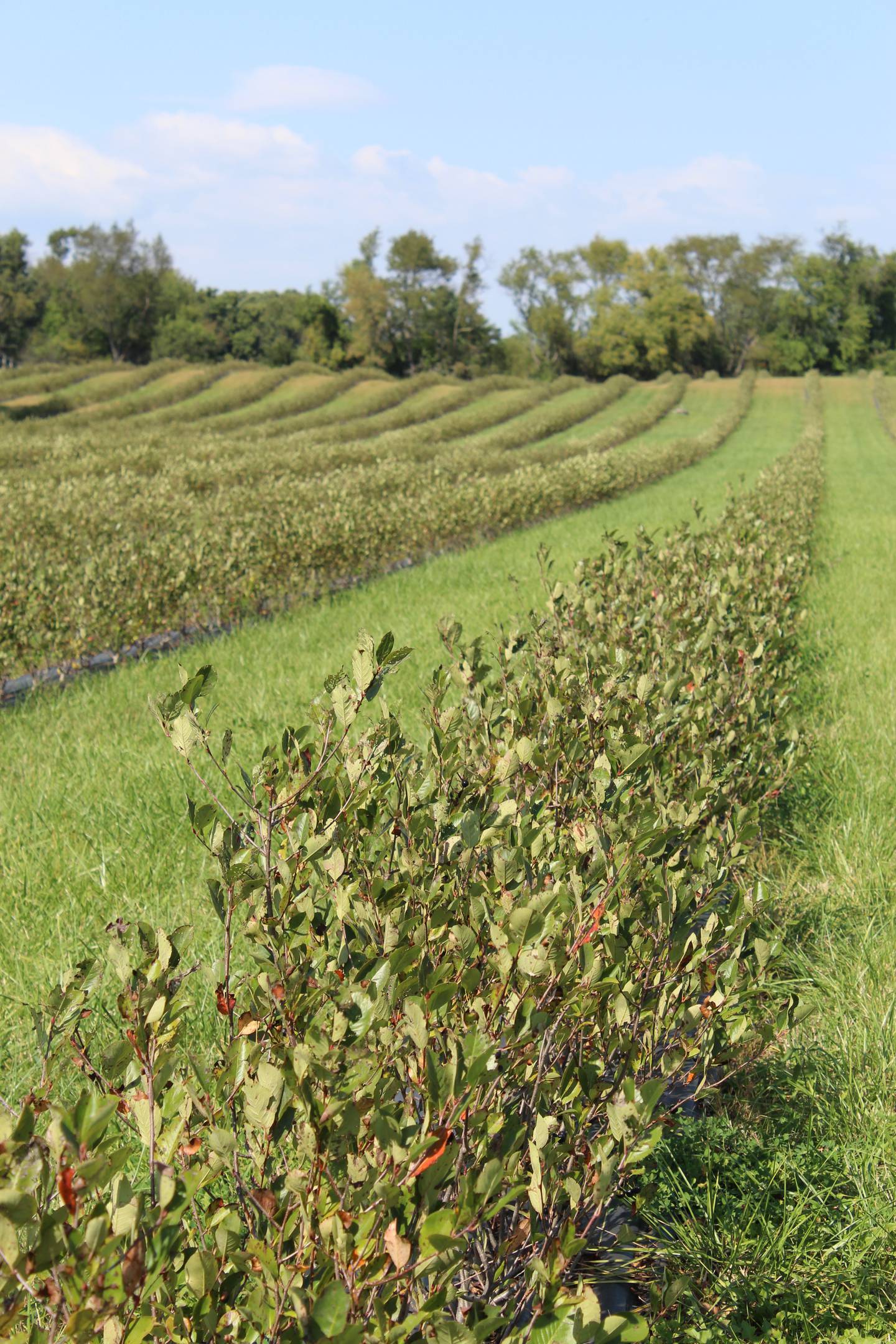 Customers can purchase aronia juice and frozen berries from Rolling Oaks.
"Aronia berries are a developing market and we're hoping it will take off," Mike said. "Ocean Spray uses aronia in some of their juices, but the U.S. market is too small, so they buy from Poland."
This is only the second year the farmers have sold berries and juice.
"We put ads in a Polish newspaper in Chicago and we'd like to get involved with a commercial producer or get into somewhere like Whole Foods," Mike said. "We drink eight ounces of the juice every day and we make smoothies, too."
Customers also had the opportunity to u-pick aronia berries at the ranch on two weekends this year.
"We post when the u-pick days on our Facebook page," Maureen said.
For more information about aronia berries, go to www.americanaronia.org.